This year's Leather Leadership Conference (LLC), with a theme of "Faces of Freedom," took place in Philadelphia from April 11 to 13 and, according to Co-Producer and Philadelphia Leather Pride Night (PLPN) Coordinator Cowboi Jen, 306 Leatherwomen and Leathermen, lesbian, gay, heterosexual, bisexual, and transgender, were in attendance at events at venues, inside and outside the Gayborhood, including the William Way LGBT Community Center, the Doubletree host hotel, the Leather bar the Bike Stop, and Voyeur Nightclub.
Opening ceremonies, on April 11 at Voyeur, began with a performance by the Liberty City Kings drag and burlesque troupe, consisting of a kinky schoolroom scene and different twists on "Girls Just Wanna Have Fun," with cats o' nine tails and so on, and "Won't you take me home tonight?"
Cowboi Jen and National LLC Chair CC introduced the evening's charismatic MCs Lady Catherine Gross and Darryl Flick, both elegantly garbed, speaking about scholarships that LLC has granted and reading essays by this year's scholarship winners.
A parade of colors, with the national anthems of South Africa, Canada and, sung by this writer, the United States, followed. Presented next were the producing 2014 Philadelphia LLC Committee; the National LLC Board of Directors; current Leather titleholders; a parade of colors of participating Leather clubs; and Mama Sandy Reinhardt's Family. A performance by current International Mr. Leather Sir Marshall Roberts, an athletic dance to "Like a Prayer," followed.
Cowboi Jen then introduced keynote speaker Jaco Lourens, the handsome Mr. South Africa Leather 2009-10 from Capetown, holder of the first-ever South African Leather title, who also took fourth place in the 2010 International Mr. Leather contest in Chicago. Invoking the spirit of Nelson Mandela, Jaco spoke, in a rousing, empowering address, replete with quotable quotes, entitled "Long Road to Freedom," of growing up during the era of apartheid, never even learning of Mandela until the pioneering leader was released from his long imprisonment. At a very young age, Jaco found, he said, that "I didn't like girls, I didn't like boys—I liked their daddies!;" reveled in "being labeled a queer and triumphing over mindless prejudice;" and, openly HIV+, maintained, "Knowing your HIV status is power." Jaco is legally married, in his country, to his lover Herman; is working with South African women against violence committed against lesbians in the form of so-called "corrective rape;" and spoke out here against antigay legislation in Uganda, urging that the United Nations intervene.
Another of Jaco's efforts is establishing the first Ms. South Africa Leather title this year, which inspired auctioneer extraordinaire Jo Arnone to call for the crowd to bid on the privileges of removing and sniffing Jaco's leather shirt; of winning his t-shirt; of stuffing his leather pants with cash donations; and of seeing him with those pants around his ankles, the South African flag shielding him from full exposure on stage, all to finance Ms. South Africa Leather 2014's attendance at the International Ms. Leather contest in the US. MC Flick added his own glitzy suit to the auction items, bringing in an additional $1,000, making the total raised for the cause come to $2,400.
Concluding the festivities at Voyeur was a concert by colorful and earthy singer and guitarist Dilana Robichaux, originally from Johannesburg, assisted by local guitarist Brian Fin. Affecting songs that Dilana wrote and performed were "Woman I Am," about her experience growing up in South Africa; "Until Death," dedicated to her baby daughter, River; and "Beautiful Monster," the title track on her CD. Completing the concert were Dilana's covers of Sting and the Police's "Roxanne" and, with Cowboi Jen singing with her, a moving Leonard Cohen "Hallelujah."
On April 12, the LLC Leadership in Action Awards Luncheon took place at the Doubletree and awards were given to Toronto activist Master Jack Pearce and Melinda Chateauvert, from Washington, D.C., and New Orleans, author of "Sex Workers Unite! A History of the Movement from Stonewall to SlutWalk."
Classes occupied much of the remainder of the schedule on April 12 and 13, including one concerning the Imperial Court System and its late founder Empress I José Sarria, with Mistress Mir presiding, in the library of the Way Center, where historic items from the [Jill] Carter/ [Viola] Johnson Leather Library were on display; "Leather: 25 Years Ago to Today: What's Changed? What Has Not?," taught by the Leather Journal publisher Dave Rhodes, at the Doubletree; and a 'fireside chat' with Jaco Lourens, interviewed by the Chicago-based Leather Archives & Museum's Douglas O'Keeffe, filmed at the Bike Stop. An address by Jo Arnone rounded out the closing ceremonies at the Way Center.
LLC 2015, with the theme of "Evolution!," will be held in Atlanta.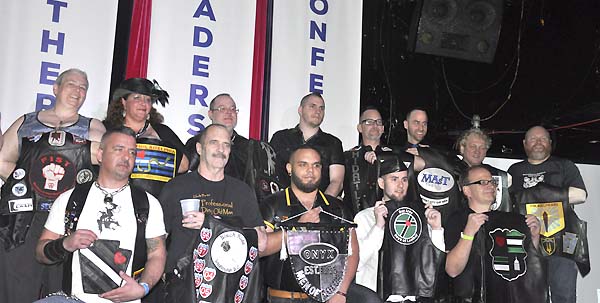 Photo by Bruce-Michael Gelbert

Leather club colors


........................................................................................................................................................................................................