QFEST - "Ticked-Off Trannies With Knives" to the Defense, at QFest
by Sherri Rase |



| | |
| --- | --- |
| | A FRIEND |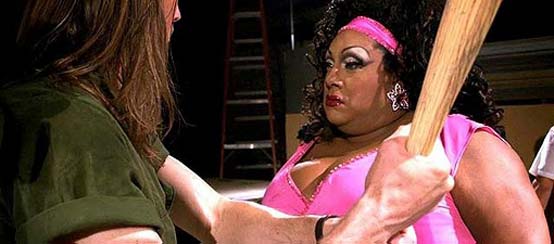 photo courtesy of QFest
scene from ''Ticked-Off Trannies with Knives'
........................................................................................................................................................................................................
Most of us go through life equivocating-we don't say what we mean, we don't do what we say. How refreshing, then, is the Philadelphia premiere of "Ticked-Off Trannies with Knives" (USA 2010, 90 minutes), thanks to QFest, the LGBT film festival. Written, directed and edited by Israel Luna, this is a trans-ploitation film that turns a jaundiced eye on the drag community, the men who are so on the down-low they don't know a condom from a worm suit, and the gray area we all swim in, where gray is red and yellow, white, and who knows which world is real and which the illusion.

Warning: This movie is NOT for the lactose intolerant-it is roiling with cheesy good fun. Imagine if John Waters wrote "Kung Fu Hustle" meets "To Wong Foo" meets "Lethal Weapon" and you might be getting warmer. And there's nothing like hot cheese....'n'.

We begin by meeting our gang of three and the other denizens of the club where they all work. Our "ingénue" is Bubbles Cliquot, played by the dazzling Krystal Summers. Even her name sounds like character name and what a character she is! Whether she's in glam makeup, as part of an avenging super hero trio, Kabuki makeup when she and her sistahs go on their visionary quest, or with a bloody nose and quivering lip, you are rooting for her and wondering where the action will take her. Our end, sort of, is our beginning, as when we first meet Bubbles, she's in bloody-nose quivering-lip mode, with her hands tied to her kitchen chair. Then we learn how she got there.

Her boss and madam/maven is Pinky La'Trimm, the voluptuous Kelexis Davenport, and clearly Pinky is looking out for her girls. Pinky is especially solicitous of Bubbles, her hottest performer, and Pinky has had a rough time with a piece of rough white trash trade with nasty stringy hair and a beard to match. Rachel Slurr, the crunchy and kicky Willam Belli, always ends up sparring with the other grrls, getting one-up about as often as she gets put down. This is a harbinger of things to come and this is one kick-ass trio.

When two Latino men say they need a grrl for a friend, Bubbles is convinced to go have a good time, and if she listened to her intuition instead, there wouldn't be a film. Do you yearn for the 1970s films and TV shows where Clint Eastwood, Charles Bronson, and Pam Grier kicked ass and took names and never ran out of one-liners? Then this show is for you. "Ticked-Off Trannies" was panned by GLAAD at its Tribeca Film Festival debut and world premiere, so you have to see what the fuss is about. Dropping song lyrics as straight lines and luxuriating in frank self parody, Luna shows that when we make fun of ourselves, our struggles and our triumphs come shining through and nobody knows us better.

Catch "Ticked-Off Trannies" at the Ritz East, 125 South Second Street, in Theater One, on July 10 at 9:45 p.m. or 11 at 4:45 p.m. QFest continues through July 19. Visit http://www.qfest.com for further information.
- - - - - - - - - - - - - - - - - - - - - - - - - - - - - - - - - - - - - - - - - - - - - - - - - - - - - - - - - - - - - - - - - - - - - - - - - - - - - - - - - - - - - -



Sponsored Links



The Best Of Fire Island
Fire Island Pines, Cherry Grove, Davis Park, Water Island Residentials Sales and Summer Rentals.
www.thebestoffireisland.com



Fire Island Realtors
The best summer rentals properties and homes for sale in all of Fire Island, The Pines and the Grove
www.fireislandrealtors.com



Fire Island Q News
Monthly Gay Webzine, Fire Island Pines & Cherry Grove, LGBT Resort Communities on the Atlantic.
www.fireislandqnews.com



New York Q News
Gay E-zine with everything hip and happening in New York City. News and events all around the city.
www.newyorkqnews.com



Residential Sales & Summer Rentals
Fire Island Pines & Cherry Grove Homes For Sale & Summer Rentals: Season, Month & Weekly.
www.cjmingolelli.com



New York City Homes
Looking to Sell or Buy your new home. Contact two specialist in the Manhattan market.
www.pde-tworealtorscom



New York's Performances & Arts
Theater, Performing Arts and Entertainment Reviews in the New York City metropolitan area.
www.qonstage.com



Shopping Online? - Gives Us a Try!
Online Mega Mall. Your community online shopping mall/Apparel, Books, Movies and more ...
www.qnewsmegamall.com