QFEST - In Exceptional Documentary Look at Our History, QFest Takes Us "Swimming With Lesbians"
by Sherri Rase |



| | |
| --- | --- |
| | A FRIEND |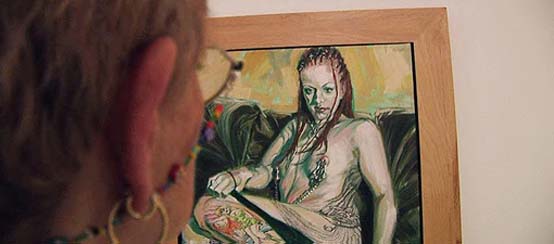 photo courtesy of QFest
scene from ''Swimming with Lesbians''
........................................................................................................................................................................................................
"We are a people," says one of the gay men speaking in David B. Marshall's documentary "Swimming with Lesbians" (USA 2009, 67 minutes), "with a past, but no history." Madeline Davis is an archivist, and living history exhibit in her own right, whose collection of Western New York memorabilia is rivaled by none. This film, receiving its Philadelphia premiere thanks to QFest, the LGBT film festival, was completed just last year, but reminds us that history is a living and growing entity.

Davis shows us the boxes and boxes of books and shares the gorgeous photos, some of which date back to the 1920s. She speaks of the courage it took to come out in the 1970s, fired up by what was happening in New York City and San Francisco, and ruminating that no one moves to Buffalo to come out. Davis is also featured in a painting in a gallery show that displays her in an intimate moment with a partner, après une scène, in which they are still in their leather and en dishabille. In a beautiful exchange, Davis calls Marshall out on his clear discomfort when the topic turns to sex, and a very honest discussion ensues where feelings are processed and a new direction is taken. Davis is sharp and funny, and to comprehend and remember that we are sexual beings from birth, we need to stop seeing her as a matronly lesbian, and understand that her intellect, her sexual expression and her joie de vivre are fired by, and also fire the archives that she creates to give us our history, to give us our sense of where we are, how we got here, and where we might go.

We know the names of famous straight people, famous white people, and famous black and Latino people. It is time that we combine all that we are and step up, step out and remember that, in a blue-collar town, brave transgendered people who dare to live as they are, butch lesbians who dare to live as they are, and swishy, lovely gay men who dare to live as they are, all create and pave the way to civil rights. The violence they have endured in order to continue to live and love, as they are, is a story that needs to be told. This is an inspiration, a passion. Take pictures of the things you do, save your letters and tell your story: it's how this generation and future generations will know how we made the world better for the struggles they will have. We are love-we are life. "You don't build the future out of nothing," Davis says. "You build the future out of where you've been."

See "Swimming with Lesbians," on a double bill with Doug Keith's documentary about New Hope, Pennsylvania, "Embraceable You" (USA 2010, 32 minutes) on July 10 at 4:45 p.m. at the Ritz East, 125 South Second Street, in Theater Two. QFest continues through July 19. Visit http://www.qfest.com for further information.


- - - - - - - - - - - - - - - - - - - - - - - - - - - - - - - - - - - - - - - - - - - - - - - - - - - - - - - - - - - - - - - - - - - - - - - - - - - - - - - - - - - - - -



Sponsored Links



The Best Of Fire Island
Fire Island Pines, Cherry Grove, Davis Park, Water Island Residentials Sales and Summer Rentals.
www.thebestoffireisland.com



Fire Island Realtors
The best summer rentals properties and homes for sale in all of Fire Island, The Pines and the Grove
www.fireislandrealtors.com



Fire Island Q News
Monthly Gay Webzine, Fire Island Pines & Cherry Grove, LGBT Resort Communities on the Atlantic.
www.fireislandqnews.com



New York Q News
Gay E-zine with everything hip and happening in New York City. News and events all around the city.
www.newyorkqnews.com



Residential Sales & Summer Rentals
Fire Island Pines & Cherry Grove Homes For Sale & Summer Rentals: Season, Month & Weekly.
www.cjmingolelli.com



New York City Homes
Looking to Sell or Buy your new home. Contact two specialist in the Manhattan market.
www.pde-tworealtorscom



New York's Performances & Arts
Theater, Performing Arts and Entertainment Reviews in the New York City metropolitan area.
www.qonstage.com



Shopping Online? - Gives Us a Try!
Online Mega Mall. Your community online shopping mall/Apparel, Books, Movies and more ...
www.qnewsmegamall.com