QFEST - "Children of God": Star-Cross'd Lovers at QFest
by Sherri Rase |



| | |
| --- | --- |
| | A FRIEND |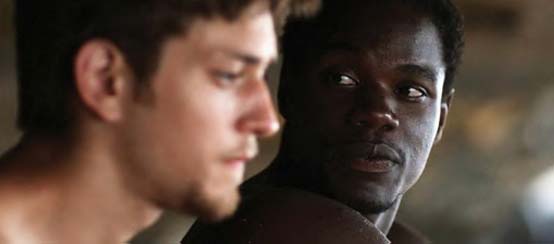 photo courtesy of QFest
scene from'
"Children of God"
........................................................................................................................................................................................................
"O what a tangled web we weave" ... In "Children of God" (Bahamas 2009, 103 minutes), Kareem Mortimer, a film maker who comes from the Bahamas and makes his full-length feature debut with this film, shares a real view of an island we mostly know from vacations. Basing this story somewhat on "Romeo and Juliet," with a twist, he makes us participants in the story of another Romeo-a handsome young family oriented gay man, played by Stephen Tyrone Williams-who falls for Johnny-a young white artist, who needs to connect his passion with his genius technique, played by Johnny Ferro. Each man must find his way and, as sometimes happens, they find one another.
Woven in with the stories of each man's struggle is that of Lena (Margaret Laurena Kemp), a pastor's wife. Although there is much anger and violence against homosexual behavior in the Caribbean, there are dozens of men on the down-low. And when Lena, faithful until death Lena, is diagnosed with a venereal disease, you know there is something amiss in Denmark. They all meet on the mail boat from Nassau to Eleuthera and then the fun begins.
Romeo's first service to Johnny, whom he remembers from when they were younger, is to help him through the dilemma of a manual transmission. Johnny's art professor has given him the keys to her studio and car in Eleuthera, giving him instructions to connect to his passion and not to return till he's gone to the mystical Lighthouse Point. It's a vision quest, in island style, as it is a difficult place to get to, and she instructs him to paint what he sees there.
Meanwhile, Lena takes a trip to Eleuthera with her son to visit another minister. Her husband Ralph (Richard Ford) has accused her of fooling around, when, in fact, the first thing he does, when his family is gone, is look for trade. Compounding this hypocrisy is, that when he's not pounding other men, he's pounding his pulpit about the dangers and the ills of homosexuality.
Romeo takes Johnny on a quest that helps him face everything he's anxious about. When Romeo teaches him that to float, Johnny must relax, it's not only a key moment in the film, it's also an arch reference to the short film "Float" that Kareem Mortimer shared with audiences in 2008.
Beautiful cinematography and the poignant reminder of the grace there is in moments make for a memorable experience here. Joy may be found everywhere: just float sometime and you'll find it.
"Children of God" has its Philadelphia premiere screenings at the Ritz East, 125 South Second Street, thanks to QFest, the LGBT film festival, on July 16 at 9:30 p.m., in Theater Two, and 18 at 4:45 p.m., in Theater One. QFest runs through July 19. Visit http://www.qfest.com for further information.

- - - - - - - - - - - - - - - - - - - - - - - - - - - - - - - - - - - - - - - - - - - - - - - - - - - - - - - - - - - - - - - - - - - - - - - - - - - - - - - - - - - - - -



Sponsored Links



The Best Of Fire Island
Fire Island Pines, Cherry Grove, Davis Park, Water Island Residentials Sales and Summer Rentals.
www.thebestoffireisland.com



Fire Island Realtors
The best summer rentals properties and homes for sale in all of Fire Island, The Pines and the Grove
www.fireislandrealtors.com



Fire Island Q News
Monthly Gay Webzine, Fire Island Pines & Cherry Grove, LGBT Resort Communities on the Atlantic.
www.fireislandqnews.com



New York Q News
Gay E-zine with everything hip and happening in New York City. News and events all around the city.
www.newyorkqnews.com



Residential Sales & Summer Rentals
Fire Island Pines & Cherry Grove Homes For Sale & Summer Rentals: Season, Month & Weekly.
www.cjmingolelli.com



New York City Homes
Looking to Sell or Buy your new home. Contact two specialist in the Manhattan market.
www.pde-tworealtorscom



New York's Performances & Arts
Theater, Performing Arts and Entertainment Reviews in the New York City metropolitan area.
www.qonstage.com



Shopping Online? - Gives Us a Try!
Online Mega Mall. Your community online shopping mall/Apparel, Books, Movies and more ...
www.qnewsmegamall.com