QFEST - Langway & Ferber's "Bear City" Brings Every Bear that Ever There Was to QFest
by Joseph R. Saporito |



| | |
| --- | --- |
| | A FRIEND |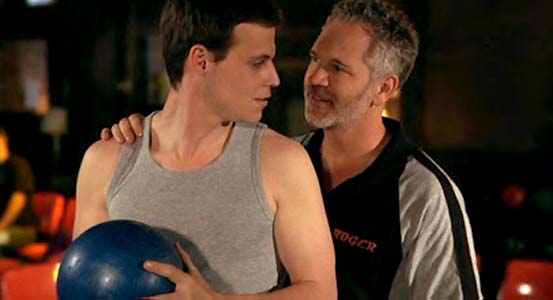 photo courtesy of QFest
Joe Conti & Gerald McCullouch in ''Bear City''
........................................................................................................................................................................................................
"Bear City" (USA 2010, 99 minutes) takes a hearty dip into Manhattan's bear scene, with a hefty dose of fairy tales that can come true. Director Douglas Langway and co-writer Lawrence Ferber have made a film that touches and warms the hearts of bears and cubs-and even of those not into the bear scene. Its realness makes you believe that the cast is made up of people you actually know, who are not just characters in a movie. The romantic comedy that is "Bear City" is set against the hurly burly of New York City nightlife during a big bear party weekend of lust, love, and life.

Roger-Gerald McCullouch, of television's "CSI" and Off-Off Broadway's "Daddy" fame-is the top bear daddy that everyone wants, the Don Juan of Bear City. He portrays his character to a tee, with always-impeccable timing, and with the facial expressions and looks in his eyes conveying the added touches that make his character so genuine.

Joe Conti, as Tyler, transitions believably from Chelsea twink to closeted 'bear trapper' on the web to bear world newbie, delivering a couple of knock-out punches along the way as the new cub on the block. Tyler moves in with two bears, Fred-Brian Keane ("Law & Order: Special Victims Unit")-and Brent-Stephen Guarino ("The Big Gay Sketch Show")-who are very much a loving couple, both comic and sincere, and looking for new adventures-or maybe not-and fairly soon, the cub sets his cites for the hottest prize of all, the highly independent, almost unobtainable Roger, who runs with a very exclusive set of musclebears.

The big bear, the warm 'mama bear' who holds the brood together, and to whom everyone turns for aid and advice, is Michael-sensitively played by Gregory Gunther-who has issues of his own about either conforming to society's idea of how a professional should look, in order to get a job-i.e. svelte-or remaining true to himself and just the way his friends and boyfriend love him.

The cast joins together to give us a sexy take on bears' lives in the Big Apple, taking us from the Ramrod/Dugout/Rockbar to the Bear Café to the Eagle NYC and meeting folks very much like Village People Cowboy Randy Jones, Blake Evan Sherman, and others you're sure to recognize, along the way.

Langway, Ferber and the cast very much deserve a GLAAD award for an at once lighthearted and serious tale of bear life. Catch "Bear City" in its Philadelphia premiere showings at QFest, at the Ritz East Theater, 125 South Second Street, in Theater One, on July 9 at 7 p.m. or 10 at 5 p.m. Langway, Ferber, and McCullouch are among those scheduled to be in attendance.


- - - - - - - - - - - - - - - - - - - - - - - - - - - - - - - - - - - - - - - - - - - - - - - - - - - - - - - - - - - - - - - - - - - - - - - - - - - - - - - - - - - - - -



Sponsored Links



The Best Of Fire Island
Fire Island Pines, Cherry Grove, Davis Park, Water Island Residentials Sales and Summer Rentals.
www.thebestoffireisland.com



Fire Island Realtors
The best summer rentals properties and homes for sale in all of Fire Island, The Pines and the Grove
www.fireislandrealtors.com



Fire Island Q News
Monthly Gay Webzine, Fire Island Pines & Cherry Grove, LGBT Resort Communities on the Atlantic.
www.fireislandqnews.com



New York Q News
Gay E-zine with everything hip and happening in New York City. News and events all around the city.
www.newyorkqnews.com



Residential Sales & Summer Rentals
Fire Island Pines & Cherry Grove Homes For Sale & Summer Rentals: Season, Month & Weekly.
www.cjmingolelli.com



New York City Homes
Looking to Sell or Buy your new home. Contact two specialist in the Manhattan market.
www.pde-tworealtorscom



New York's Performances & Arts
Theater, Performing Arts and Entertainment Reviews in the New York City metropolitan area.
www.qonstage.com



Shopping Online? - Gives Us a Try!
Online Mega Mall. Your community online shopping mall/Apparel, Books, Movies and more ...
www.qnewsmegamall.com