Coming Back from a Winter in Florida?
Make a Stop in Savannah!
by Denise Dell Harbin, Dell 2 Travel-A Gazooba Travel Agency |



| | |
| --- | --- |
| | A FRIEND |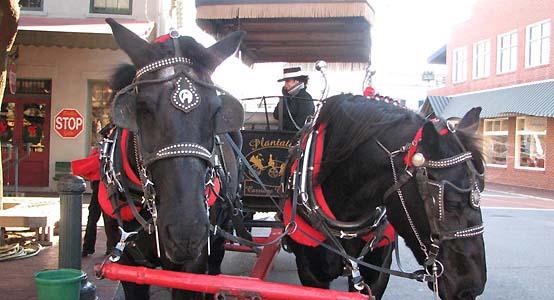 photo by Denise Dell Harbin
Horse Drawn Carriage Ride
........................................................................................................................................................................................................
As we snowbirds all head north and, like the swallows, come back to Capistrano ... I mean Fire Island! ... we should be sure to stop for a night or two in Savannah, Georgia. Spring is beautiful in Savannah, "The Hostess City of the South," when all the azaleas are in bloom. Wisteria, dogwood and jasmine are also in bloom, and the scents are intoxicating!

The city is laid out in a grid, around 23 squares and a much larger open green area called Forsyth Park, so walking is very easy.

The famed songwriter and lyricist Johnny Mercer was from Savannah, and a bronze statue of him is at the southern end of the City Market Walk, in Ellis Square. Mercer wrote over 1,500 songs including such well-known classics as "Hooray for Hollywood" (1937), "Blues in the Night" (1941), "Skylark" (1942), "One for My Baby" (1943), and "Come Rain or Come Shine" (1946). He was nominated for 18 best-song Oscars and won four times, including for "Moon River" in 1961 and "Days of Wine and Roses" in 1962, both with music by Henry Mancini. Mercer also co-founded Capitol Records in 1942. And somehow he found time to have a "mad affair" with 19-year-old Judy Garland in Hollywood. No wonder we love him!

And of course our favorite cook Paula Deen makes Savannah home. In fact, she owns The Lady and Sons Restaurant with her two sons. I stopped there as I was heading north and sadly, although the buffet line was filled with food and smelled fantastic, they told me to come back at 5 o'clock. Well, I would be in Virginia by that time! But I've eaten there before and the fried chicken is the best ever! Sorry, Colonel.

Savannah is also home to the Savannah School of Art and Design (SCAD) so there are plenty of young and beautiful people all over town!

The architecture in Savannah has been lovingly saved and restored, with many homes on the National Register, and several available for touring. One of the most fabulous houses is The Mercer Williams House at 429 Bull Street (enter around the corner at 430 Whitaker Street), the home of antiques dealer Jim Williams, immortalized in the movie "Midnight in the Garden of Good and Evil." Read the book, or see the movie, then take the tour! The impact of this book on Savannah has been greater than that of any other in the city's history-amazing what a little Voodoo Justice can do!

Written by John Berendt, an associate editor at Esquire and editor of New York magazine, and published 1994, the nonfiction narrative quickly became known locally as simply "The Book." The story is loosely constructed around internationally known antiques dealer Jim Williams' shooting of a male hustler in May 1981 and his subsequent four murder trials-found guilty three times, then acquitted in the last trial-that lasted more than eight years. Williams was finally set free, but the main interest of the story for many readers has been the wealth of exquisitely drawn incidental characters from every level of society and the anecdotes artfully woven in that provide an intimate view of the tapestry of Savannah.

Among memorable real Savannah residents depicted are singer/pianist Emma Kelly, "The Lady of 6,000 Songs"-so named by Johnny Mercer; Minerva, the Low Country Voodoo doctor who worked spells for the accused; Sonny Seiler, Williams's defense attorney and owner of Uga, the University Georgia's renowned bulldog mascot; and The Lady Chablis, a drag queen, who joyfully crashes an annual African American debutante ball.

The Savannah Morning News called the book "a compelling, morbidly fascinating, beautifully written book," though the reviewer found the multitude of characters and anecdotes-however masterfully rendered-"overwhelming and overindulgent." Kind of like the city itself! Savannah is charming and mysterious, fascinating and over the top. And isn't that gay?

The book won the Southern Book Award and was a finalist for the Pulitzer Prize in nonfiction, but without a doubt its most significant achievement was the record 216 weeks it spent on the New York Times best-seller list. It also spawned a jazz concert based on Johnny Mercer songs, which toured the country in 1996; an eight-episode series on "This Old House" in 1996; and a two-hour A&E documentary entitled "Midnight in Savannah" in 1997.

Clint Eastwood directed the film in 1997, shooting on Monterey Square in Savannah. The cast included Kevin Spacey as Jim Williams, Jude Law as the hustler Danny, and John Cusack as the author's character (renamed John Kelso). Playing themselves in.the film were Emma Kelly and The Lady Chablis, and Uga V played his own father. The Hoagy Carmichael/Johnny Mercer song "Skylark," sung by k.d. lang, is featured prominently in the movie and the movie soundtrack is a tribute album to Johnny Mercer, containing 14 Mercer songs performed by a variety of jazz and pop recording artists

Authentic Savannahians filled many minor roles and rounded out crowd and party scenes. Eastwood made good use of the tree-lined streets and historic squares, and several scenes were shot at Mercer House itself. Hugh W. Mercer, Johnny Mercer's great-grandfather, built the mansion in the 1860s. The movie premiered in Savannah at the Johnny Mercer Theater on November 20, 1997, with Kevin Spacey, The Lady Chablis, and local actors attending, and opened nationwide on the following day.

If you love architecture, next visit the Sorrel-Weed House at 6 West Harris Street (corner of Bull, on Madison Square). Built in 1838, it is nicknamed "the most haunted house in Savannah." Tours begin at 6:45 p.m. and continue through 12:30 a.m.-for those who love the nightlife! Apparently, the ghosts do.

The historic carriage rides are fun and the drivers are so knowledgeable about the history of their town, making them very relaxing and informative experiences! We took a ride with "Smokey," a big, beautiful workhorse, and his driver. At one of the squares, we encountered a fascinating man, who rambled on about his life in one of the native cultures of Savannah, called Gullah or Gola, created by the slaves who arrived here so many years ago from Angola, in Africa. He wove his story as he crafted a rose from reeds, one of the native arts here in what they call the Low Country. It is a land that does lie low, next to the sea, and therefore is abundant with shrimp. Try some local fare at one of the many restaurants! And get to know the people-friendly, affable, with an abundance of that slow Southern charm!

Shopping abounds in Savannah. Go along the Savannah River, where there are many shops of handmade items, from calligraphy to ironwork. This area used to be the office of the "Factors," who would buy the goods from the ships from Europe. And there is a wonderful cobblestone street called City Market, open only for walking, full of art galleries and restaurants. You'll find the horse-drawn carriages here.

There are plenty of arts and entertainment in Savannah. Before you go, check out what's happening at www.savannahnow.com/do, and when you arrive, look at the listings in The Savannah Morning News, a free local paper available at kiosks around town. Check out gay-friendly businesses at www.GaySavannah.com.

When I visited, Del Shores' "Sordid Lives" was playing at the Bay Street Theatre, and the ticket included admission to the cabaret shows that followed at Club One-many of us are all familiar with this gay cult classic, which was presented in Cherry Grove, on Fire Island a couple years ago by Island Rep-and a portion of the proceeds benefit the Savannah Pride Festival celebrating the LBGT community which happens in September every year.

Enjoy your time in Savannah-you will want to come back! Maybe in the fall, on the way back south. And if you have the time, stop in Hilton Head and see the famous lighthouse, and then stop in Charleston, another beautiful southern city with a charm of its own.

For more information on Savannah, Hilton Head or Charleston, email the author at dell2travel@yahoo.com.

- - - - - - - - - - - - - - - - - - - - - - - - - - - - - - - - - - - - - - - - - - - - - - - - - - - - - - - - - - - - - - - - - - - - - - - - - - - - - - - - - - - - - -



Sponsored Links



The Best Of Fire Island
Fire Island Pines, Cherry Grove, Davis Park, Water Island Residentials Sales and Summer Rentals.
www.thebestoffireisland.com



Fire Island Realtors
The best summer rentals properties and homes for sale in all of Fire Island, The Pines and the Grove
www.fireislandrealtors.com



Fire Island Q News
Monthly Gay Webzine, Fire Island Pines & Cherry Grove, LGBT Resort Communities on the Atlantic.
www.fireislandqnews.com



New York Q News
Gay E-zine with everything hip and happening in New York City. News and events all around the city.
www.newyorkqnews.com



Residential Sales & Summer Rentals
Fire Island Pines & Cherry Grove Homes For Sale & Summer Rentals: Season, Month & Weekly.
www.cjmingolelli.com



New York City Homes
Looking to Sell or Buy your new home. Contact two specialist in the Manhattan market.
www.pde-tworealtorscom



New York's Performances & Arts
Theater, Performing Arts and Entertainment Reviews in the New York City metropolitan area.
www.qonstage.com



Shopping Online? - Gives Us a Try!
Online Mega Mall. Your community online shopping mall/Apparel, Books, Movies and more ...
www.qnewsmegamall.com