Notte di Mille Gowns-High Style Italian Style
by Sherri Rase |



| | |
| --- | --- |
| | A FRIEND |
photo by Bruce-Michael Gelbert
New Empress Farrah Moans & New Emperor Jack (seated)
........................................................................................................................................................................................................
On March 27, Night of a Thousand Gowns celebrated 24 years of service of the Imperial Court of New York, who provides essential support to organizations, including those providing services for HIV/AIDS education and care. It was an evening of pope and circumstance-um, that's POMP-and men and women in gorgeous gowns, custom-tailored clothes and dazzling court jewels brought some much-needed glamour to the beauty-starved masses at the Marriott Marquis Hotel in Times Square. The night's deserving organizations were Broadway Cares/Equity Fights AIDS and God's Love We Deliver. The Economy is looking up as more than $225,000 was raised.

Traveling up to the third floor to get Press credentials, we saw Marquis mavens who were staying at the hotel, but not part of the Court proceedings, who could hardly believe their eyes at the rich jewel tones of red with gold, violet, silver, gold and Empress XI Gianna in leaf green-toting a clipboard...hmm, a harbinger of things to come? Cherry Grove denizens spotted during cocktail hour included Roland Michely, Rose Levine and Michael Fitzgerald, Jacqueline Jonée, Peter B. and Jim Speake. Babs Casbar, New Jersey activist extraordinaire, was there, as was Toby Grace of Out In Jersey magazine. Heritage of Pride people were in attendance as well, as Pride knows no season. Monarchs from across the water-Mr. NJ Leather 2008 Spanky, and Mr. NJ Leather 2010 Damian Parra-were also in attendance. We were all welcomed into the main area with the admonition "hurry, or you'll be late for the wedding!"

We were treated to two national anthems-Beth Ann Bonner and Bree Williamson, of the soap opera "One Life to Live," sang a deep and deeply felt version of "O Canada" and recording artist Kelly King did a stirring rendition of "The Star Spangled Banner" and moved us all. And thus the festivities began.

The centerpiece of the opening was "Tony Anne Tique's Wedding," choreographed by Empress X Ran-Dee, and it was complete with everything you might expect-beautifully attired monarchs, lords and ladies, dukes and duchesses, and even an important pregnant guest-but more about her later.

The guests arrive for the wedding, greeting one another, and there are wise women, wise guys and lots of surprises. Among the treats are the two red dressed bridesmaids who broke into the Stepsisters' Song from the mid-century madness of Rodgers and Hammerstein's "Cinderella" (or perhaps in this case, "Cinder-Fella"?). Sondheim is being fêted everywhere in New York City in honor of his 80th birthday, especially among the LGBTI community and straight allies, celebrating here in the Broadway Ballroom. From the Bride's beautician, who was excerpting "Putting it Together," from "Sunday in the Park with George," to reigning Empress XIII and XXIII Anne Tique's "(Not) Getting Married Today," from "Company," interspersed with Prince's "Let's Go Crazy" from the Minister (Emperor X Gabriel Della Notte), "Angelina" from reigning Emperor XIV and XVIIITony Monteleone, the Groom, "It Should've Been Me" from the pregnant wedding guest (clearly on the Groom's side). When the wedding was done, the back curtain opened, revealing a detailed day-glo Coliseum and when the gorgeous Asian Empress VII Coco LaChine sang "Be Italian," from "Nine," you knew all you need to know about the diversity in the Imperial Court of New York.

Dame Robin Strasser, from "One Life to Live," teased us with special items for the live auction, accompanied by Jase Woodruff and two other buff boys, and a Michael Crawford watercolor was presented by another buff Phantom. Dame Robin promised she'd be back, and we held her to it. After all, she came out to us as a drag queen, and that takes ovaries.

Lt. Dan Choi, fresh from his "engagements" in Washington, D.C.-outside the White House and behind bars-honored all out people, and those yet to come out and, fighting Don't Ask Don't Tell, is proud to be one of the latest in a long line of brave people. He accepted the Imperial Diamond Award for his work completed and the work yet to come. Rumor has it Lt. Choi had his handcuffs with him, but who could say?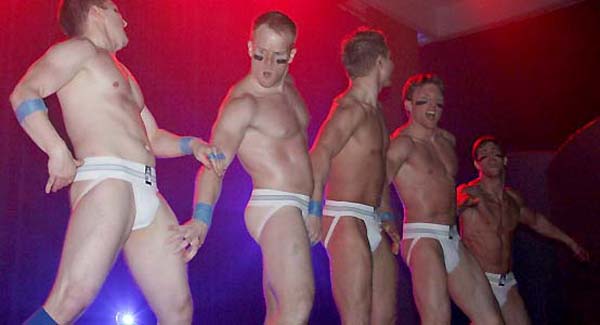 photo by Bruce-Michael Gelbert

Broadway Bares dancers

........................................................................................................................................................................................................


Dame Robin came back to provide special recognition to supporters of the Imperial Court.

Following this, special Knighthoods were given to recording artist Ari Gold, as well as to Douglas Sanborn, brand manager for Miller/Coors for LGBT community.
The next recipients were Jerry Mitchell-creator and executive producer of Broadway Bares, which has benefited Broadway Cares/Equity Fights AIDS since 1992-his service to Broadway and the community is legendary from Tony and Drama Desk awards; Sotheby's auctioneer Hugh Hildesley-key fundraiser for charities and has conducted auctions for Bailey House and Imperial Court, known for his willingness to make good things happen to good people; and finally, David Ludwigson-God's Love We Deliver's Chief Development Officer, who volunteered there when he was still working in Marketing for Ford-his good works are without number and once some people volunteer they never turn back. Judy Shepard also received an award for her ongoing activism in memory of her son Matthew, which has doubtlessly saved countless lives of LGBTI youth.

The reigning Empress and Emperor processed out, clearing the stage for a decade-commemorating performance by Empress XIV Victoria V. Weston, singing live-a special paean teased out of "As if We Never Said Goodbye," from "Sunset Boulevard," and "Home," from "The Wiz," with new dedication to those in the Imperial Court who made her walk so special, in a special performance tailored to this evening. Victoria Weston makes every moment special.

The moment arrived for the Walk of the dowager Emperor XVII Rob Hunter De Woofs and Empress XXII Charlene Chivoe, and the electric performance of Jesse Volt, looking like a Vegas-Cher, doing one of the best of Cher's early songs, "Bang Bang," and the audience was on its feet.

We met the three finalists from RuPaul's "Drag Race," in "LipSync for your Life," starting Sahara Davenport,with "New Attitude" and was it EVER! Nicole Paige, and finally Sonique, frenetic, athletic and energetic, followed, and the energy continued high throughout the First Act of the evening. Then guest DJ Sherry Vine got the other guests on their feet to dance with the Black Eyed Peas' "I Gotta Feeling (that tonight's gonna be a good night)," and many went to the Silent Auction to make sure the benefiting organizations had a good night as well.

Act II opened with Mario Prince Royal D'Ziner, who was one of the emcees for the act. Expert auctioneer Hugh Hildesley moved guests to purchase a cooking tour of Italy. Emperor XV Fantasia, the co-emcee for the second act, introduced renowned recording artist Kelly King, who returned to perform her hit "Working Girl." Kelly's passion and verve magnified Jennifer Holliday's hit "And I Am Telling You I'm Not Going," from "Dreamgirls," and when she spiked a high note at the end, and segued from an ornamented passage to the big finish, the crowd went wild. How to follow this, but with Imperial Grand Duchess Swana Swarovski, who presided over the presentation of The Imperial Court of New York! An added attraction was the crowning of New York Empress VII Coco LaChine and Queen Mother II of the Americas. And then the royal procession began with reigning Empress AnneTique and Emperor Tony Monteleone receiving their loyal subjects.

Solemn commemoration of Empresses and Emperors who have passed was followed by a definitive return to life with international recording artist Crystal Waters, performing with a troupe of dancers, backlit and splendid in an orange leather jacket over a sequined tunic and silky leggings. Close cropped hair and large hoop earrings, deep thrumming bass and sexy back up dancers increase the vibe. Funk segues into "Gypsy Woman (She's Homeless)" leads to myriads of cellphones with blinking red lights recording the performance, while the crowd croons with the crooner. And of course, Waters rocked it out on "100% Pure Love" and everyone was dancing by the time she got to "Destination Unknown."

Empress Anne Tique and Emperor Tony Monteleone made a special presentation to Empress Verna Turbulence of Boston for extraordinary services to the Realm-a sash and a key to the City, and large smiles were in abundance. Then came the presentation of visiting courts, leading off with the first Imperial Court of all, San Francisco, and running the gamut nationally and internationally, including Canada. From here, the reigning monarchs were excused and Miss Coco Peru took the stage-and I mean TOOK the stage.

Miss Coco Peru is a singer and raconteur and has an interesting slant on everything from Marriage Equality to Mormons. She is the love child of Kathy Griffin and Paul Lynde and does drag, as well as Lynde in "Glassbottom Boat"-RRRROWWWRRRR! People are worried we'll rend the social fabric, she says, and Coco avers that gay people would NEVER hurt fabric! "Oooh, that's PRETTY-and Voilà! It's a dress!" Through comedy, she's changing the world and showing the faulty syllogisms of the religious Wrongs.

Terri White, star of "Finian's Rainbow" and "Barnum," and soon to be featured as Mama Morton in "Chicago," led her set off with "God Bless the Child," resplendent in black leather pants and plum leather jacket with a glossy feather detail at collar and cuffs that framed her perfectly against the velvet curtain and she called to the audience, tugging heartstrings as she went. Like Billie Holliday, White has known life, and it shows in her selection of music and her soulful interpretation. When she moved into "Necessity," from "Finian's Rainbow," she slinked down the catwalk, working the audience as she went, strutting and taking us with her every step. And then it was time for Emperor Gabriel Della Notte to take his Decade walk.

Attended by wild-haired warrior princesses, some with glowing horns, Emperor Gabriel emerged through fog and, with a portion of the Coliseum visible behind him, dropped his cloak and made a walk to Queen's "We Will Rock You/We Are the Champions," and was joined at the finale by Empress Victoria Weston, Gabriel in black, Victoria in white and silver sparkles-Goth meets Robin Hood. Immediately following Gabriel, Victoria, and Queen was Broadway Bares in the aptly named dance numbers "Football Strip" and "Stimulus Package." Unless you have seen the show, you have no idea what is in store for you. Men stripping. Women stripping. What's not to like?! Energy, etc., is up, time to dance-thanks, DJ Sherry Vine! Sherry has her finger on the-ahem-pulse of the crowd. She knows when to toss in Carol Douglas' "Turn the Beat Around," from the golden age of disco, and mix it up with "Please Don't Stop the Music," as guests' feet danced where the Broadway Bares dancers had been just moment before ... collecting footsteps as some collect autographs.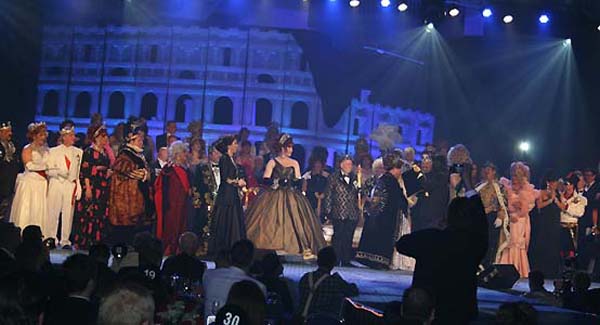 photo by Bruce-Michael Gelbert

Imperial Court of New York takes the stage

........................................................................................................................................................................................................


Act III is the end game for the outgoing Monarchs and the beginning for the incoming, but when you are part of the Imperial Court of New York, your life is service. It begins, but never really ends. Doing good deeds becomes as much a part of you as breathing. People become involved and good works start filling up and spilling over. This evening is part Prom, part Academy Awards, and the best wedding you ever attended, which you had no part in planning. The event runs smoothly from cocktail hour to dinner hour to Viennese buffet. Glitterati from all over the Northeast and beyond gather to do the fun thing to raise money to do the right things. And the evening is far from over.

Emperor Tony Monteleone lip-synced "Some Kind of Wonderful," with go-go dancers Princesses Royale Misty and Lotta Trouble in fringed dresses, so teen idol, so Frankie Valli, so Eye-Talian!-perfection with "Tony's Angels." Empress Demi Tasse XVII presided over the last walk of Empress Anne Tique, who stood revealed in front of the Coliseum, draped as befits the Golden Glamazon Empress. Black fur stole drops to reveal an orange and gold dress, and "Feeling Good (It's a new day)" for Gotham's grrl. She is Style. Then they join forces for "Together Wherever We Go," from "Gypsy," so apropos.

Kristine W has six Number One dance hits on her latest album "Power of Music" and she lit up the crowd next, in her command performance. She worked the stage starting with "So Right" and she invited the guests to dance if they felt the beat. She moved through the crowd and selected a man from the crowd to dance with her, and he obliged. Then she segued into "I'm Still Standing," then after a bit more work, Kristine W grabbed her sax and showed us how it's done-blow, baby, blow! Where else can you see people dressed in 18th century clothes, leather Canadian Mountie uniforms, and Zsa Zsa frocks all dancing together in the red, orange, yellow, green, royal blue and magenta lights of a très gay par-tay. And yes, folks, "It's Gonna Be All Right" tonight.

While the College of Monarchs assembled on stage, Cherry Grove's own Empress Sybil the First, founding Empress of the Imperial Court of New York, received a Lifetime Achievement Award...and so young! So beautiful! So accomplished! We then met the Heirs Apparent, first the retinue of Imperial Crown Prince Royal Jack. A word about the glorious pageantry that marks the royalty of the Imperial Court: there is something to be said for ceremony and the beauty of form, especially as we see the heralds and entourage of the new Monarchs. Something in our egalitarian society still hungers for something of splendor and This Is It.

People process, we see the attributes of Royalty-the scepter, the crown, the Prince in royal purple satin, with music from Richard Wagner "Ring des Nibelungen" swelling up around us, as he takes his place among the College of Monarchs. And then, it is time for the Imperial Crown Princess Royale to receive her due.

Olympic fanfare, the Superman theme and rolling spotlights mark the arrival of the parade of super heroes and super villains who process in their turn to the "Star Wars" theme, and a whole parade of movie characters are released from behind large and small screens. Clearly Empress Farrah Moans will be about fantasy and reality and how they combine. When we see the blue chanteuse from The Fifth Element appear, singing the Mad Scene from "Lucia di Lammermoor," she draws a different group of characters from fairy tales of all descriptions. The strains of "Also Sprach Zarathustra," of course, reveal the monolith, with a different form of Homo-nid around it. And Farrah Moans bursts forth in gossamer glory from the chrysalis. Ten-foot white wings tower over the Empress Apparent and then the coronation can truly begin.

Emperor Gabriel asks Empress Anne and Emperor Tony to hold the crowns while the Heirs take their oaths. They are admonished to lead for the good of the many during the twelve months of their reign. Absolute Empress I of San Francisco, José (Sarria), the Widow Norton, and Queen Mothers Nicole the Great and Coco LaChine are there to bear witness. The crowns are placed and as expected, the crowd goes wild. The evening is far from over and the reign of Emperor XIX Jack and Empress XXIV Farrah Moans is just beginning, and what an auspicious beginning it is!.
Mark your calendars now for next year's Night of a Thousand Gowns, and attend it and other Imperial Court events. It's a way to give back and taste some elegance, all year round.


- - - - - - - - - - - - - - - - - - - - - - - - - - - - - - - - - - - - - - - - - - - - - - - - - - - - - - - - - - - - - - - - - - - - - - - - - - - - - - - - - - - - - -



Sponsored Links



The Best Of Fire Island
Fire Island Pines, Cherry Grove, Davis Park, Water Island Residentials Sales and Summer Rentals.
www.thebestoffireisland.com



Fire Island Realtors
The best summer rentals properties and homes for sale in all of Fire Island, The Pines and the Grove
www.fireislandrealtors.com



Fire Island Q News
Monthly Gay Webzine, Fire Island Pines & Cherry Grove, LGBT Resort Communities on the Atlantic.
www.fireislandqnews.com



New York Q News
Gay E-zine with everything hip and happening in New York City. News and events all around the city.
www.newyorkqnews.com



Residential Sales & Summer Rentals
Fire Island Pines & Cherry Grove Homes For Sale & Summer Rentals: Season, Month & Weekly.
www.cjmingolelli.com



New York City Homes
Looking to Sell or Buy your new home. Contact two specialist in the Manhattan market.
www.pde-tworealtorscom



New York's Performances & Arts
Theater, Performing Arts and Entertainment Reviews in the New York City metropolitan area.
www.qonstage.com



Shopping Online? - Gives Us a Try!
Online Mega Mall. Your community online shopping mall/Apparel, Books, Movies and more ...
www.qnewsmegamall.com