Mardi Gras 2010 in New Orleans: Carnival Season with a Side of Saints
by Bruce-Michael Gelbert |



| | |
| --- | --- |
| | A FRIEND |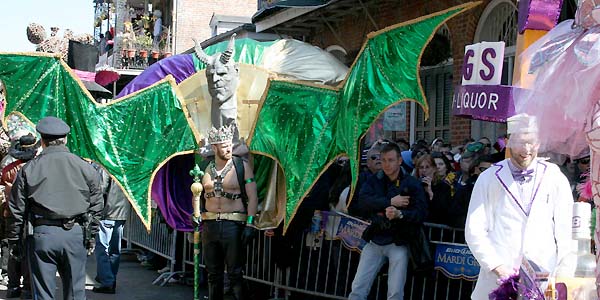 photo by Bruce-Michael Gelbert
at Bourbon Street Awards - Lords of Leather Consort Tim Lott (left)
........................................................................................................................................................................................................
Carnival season in New Orleans this year was even more of a three-ring circus than usual: there was a mayoral primary on February 6, in which Louisiana's Republican Governor Bobby Jindal's Democratic Lieutenant Governor, Mitch Landrieu, was anointed as the Crescent City's first Caucasian mayor in 32 years, a sign, perhaps, of the demographic change since Hurricane Katrina; the New Orleans Saints won their first Super Bowl ever on February 7, resoundingly defeating the Indianapolis Colts, 31 to 17; and there was, of course, Mardi Gras, Fat Tuesday on February 16, preceded by a couple of weeks of intensive partying, with the huge crowd of locals and visitors, undaunted by the chilly weather, attending many of the 60 Carnival season parades, gala masked balls, and other festivities. There was plenty of drag, plenty of leather, and other creative costuming and, in garb and beads alike, black and gold, the colors of the Saints, as well as the fleur-de-lys (lily), originally symbol of the Bourbons, the French Royal family, joined the traditional Mardi Gras hues of purple for justice, green for faith, and gold for power. In 2008, the last time I covered Mardi Gras in New Orleans, I wrote about the parades first and the gay and leather events next, for that is how they fell chronologically. This time, let's reverse it, as the latter are freshest in my mind.

On Valentine's Day, as the guest of KaCey Roberts, I attended the Lords of Leather's spectacular Bal Masque XXVII, at the John A. Alario Sr. Event Center, across the Mississippi River in Westwego LA, my eighth of these invariably glittery shows of leathers and feathers. Lord King XXVI Gary Vandeventer and Lord Consort XXVI Bruce Orgeron stepped down, Lords King and Consort XXVII Alan Kelly and Tim Lott were crowned and, in honor of all of them, elaborate tableaux representing "Lost New Orleans ... It Ain't Here No More!" were presented, with Darwin Singleton and tart-tongued Bianca Del Rio serving as MCs. Remembered in these tableaux were the likes of illustrious Voodoo Queen Marie Laveau; the U.S. Mint, responsible in the 19th century for both Union coins, with an O mint mark, and Confederate coins, and now a museum; Storyville, the notorious red light district in the French Quarter, shut down by the government in 1917; the 1984 World's Fair; Bourbon Street's French Opera House, destroyed by fire in1919, the tableau here accompanied by music from "The Phantom of the Opera" and Wagner's "Ring;" Lincoln Beach, recalled from the era of segregation and restricted, as the sign said, to "colored [sic] only;" and a more recent loss, the leather emporium Gargoyles, which was on Decatur Street. Entertainment was provided by country singer Laurence Lesage and a trio of Lords of Leather dancers. The event was dedicated to the memory of the leather court's recently deceased Ball Captain David Boyd, who had planned its theme. Back in New Orleans, after being dazzled by the ball, many of us repaired to favorite leather watering hole, the Phoenix and its upstairs bar, the Eagle, while others went to JohnPaul's, across Elysian Fields Avenue from it.

At high noon, on Bourbon Street, on a stage set up in between popular bars Oz and the Bourbon Pub/Parade disco, Bianca Del Rio and Blanche Debris co-hosted the ribald, riotous, rollicking 46th annual Bourbon Street Awards ceremony, in which many contestants showed off finery that they had worn to their Krewe, or Mardi Gras organization's balls. Top winners were the Ballerina of Music, from the Krewe of Armeinius, in both the drag and best costume in show categories; a "Priscilla, Queen of the Desert" trio, complete with ostrich and frilly lizard, in the best group category; and new Lords of Leather Consort Tim Lott, in his striking wingéd gargoyle costume, in the best leather category. It is worth noting that among the contestants were a local woman, 79-years-young, billing herself as "My Fair Lady," and striking in a replica of the famous black-and-white Cecil Beaton costume, worn by Audrey Hepburn in the film, and a man, from California, I believe, 80-years-old, nearly nude and in fine shape, portraying "The Emperor's New Clothes."

Almost immediately following was the 23rd annual Official Gay Mardi Gras Bead Toss, from the Ambush magazine headquarters balcony on Bourbon Street, with a theme of "Passport to Versailles, No Guillotines Please," presided over by Krewe of Queenateenas' King Cake Queen XVII Opal Masters, the Parisian Queen, joined by, among others, the beloved Princesse Stephaney and the Lords of Leather's Gary Vandeventer. Passersby below clamored for colorful strings of beads and were commanded to flash some intimate body part in payment.

Earlier in the holiday season, I attended 10 parades, half-a-dozen of them with my partner, Joe Saporito, joining me here for a week, and the sponsoring Krewes and the parades' themes follow. On February 6, I went to: Pontchartrain, the grouper its piscine symbol, and its theme, "Can you name that idiom?," with floats illustrating phrases, revealed only in "Wheel of Fortune"-like, fill-in-the-blanks clues, such as "Go fly a kite," "Where's the fire?", "Fish or cut bait," and "A penny saved is a penny earned;" Sparta-"Realm of Rhyme," with floats depicting Mother Goose rhymes, Dr. Seuss' Cat in the Hat, and so on; and Pygmalion-"Mardi Gras ... Past and Present," which focused on saluting Krewes that no longer march. On February 7, the Krewe of Barkus showed its allegiance to the Saints in its "Barkus Goes Tailgating-the Dogs Go Barking In" parade, with hundreds of pups and owners sporting gold-and-black football helmets, uniforms, t-shirts or jerseys, appropriately sized, as well as capes bearing the fleur-de-lys. One pig and one scarlet macaw joined in the canine fun. Most parades march on St. Charles Avenue, where the venerable streetcar line runs, and conclude on Canal Street, just outside the French Quarter. Barkus' route, in the Quarter, includes a trek along Dumaine Street, going past Marc Anthoni and Cowboy Dave's Bear Trap, the exclusive leather guesthouse/dungeon where we stay. Later that day, the Saints won the Super Bowl and Joe arrived just as all hell was breaking loose, with masses people dancing and celebrating in the streets, and exchanging fist bumps, accompanied by cries of "Who Dat?," in local dialect, as in "Who dat say dey going to beat dem Saints?"

On February 9, the city interrupted Mardi Gras to celebrate the Saints, Super Bowl XLIV Champions, with a victory parade, for which 800,000 crowded the streets to cheer handsome star quarterback Drew Brees and his teammates, riding on Mardi Gras floats. The next night, Mardi Gras parades resumed with the Mystical Krewe of Druids' "Druid Holes," with floats entitled "hole-e-cow," expressing amazement that the Saints won; "19th hole," in recognition of Tiger Woods' escapades; etcetera.


| | |
| --- | --- |
| | |
| photo by Bruce-Michael Gelbert | |
| Bourbon Street on Mardi Gras night | |
| ........................................................................................... | |
After a day's hiatus, when parades were postponed or canceled because of rain, they resumed and, on the evening of February 12, despite icy winds, we attended four consecutive parades: Hermes-"the Sacred Bestiary," with floats showing various Egyptian animal deities; the Krewe d'Etat's "Inferno: a not-so-divine comedy," with skulls, skeletons and gargoyles predominating in the prized "throws," souvenirs tossed to the crowd, from floats deflating many a sacred cow, in government, politics and the news-one limning the self-aggrandizing "falsifier of words, money: Pharaoh Made-off" was a favorite; Morpheus-"Dreams of the Classics," including "The Wizard of Oz," "Mary Poppins," "Camelot," and "I Love Lucy" floats; and Muses, the all women's krewe, always an enjoyable parade, with a wry "Muses Guide to Love and Romance" its eternal battle-of-the-sexes theme, and many throws bestowed on women and men alike.

Between and after parades, we ate at Serio's sports bar/restaurant, offering tasty po' boy sandwiches, on St. Charles Avenue; at the varied buffet at Harrah's casino, on Canal Street, near the river; or at Déja Vu, a 24-hour sports bar/restaurant, on Dauphine Street, not far from Canal Street, which offers a steak special on Tuesday and Thursday nights. Other times, we ate at good restaurants, like Ralph & Kacoo's, a favorite seafood restaurant, on Toulouse Street; the Praline Connection, offering Southern Style cooking, on Frenchman Street, across the street from Faubourg Marigny Books, the LGBT bookstore, in the Faubourg Marigny neighborhood, abutting the French Quarter; Mona Lisa and Angeli, our neighborhood Italian restaurant, on Royal and Decatur Streets respectively; and La Peniche, open 24 hours on weekends, on Dauphine, not far from the Phoenix; and at some functional ones, like the dependable 24-hour Clover Grill, on the corner of Bourbon and Dumaine, across Bourbon from popular bar Lafitte in Exile, with its balcony, great for people watching, and across Dumaine from the Bear Trap. Other nourishment came from 24-hour neighborhood groceries Verti Marte, on Royal at Governor Nicholls Street, and Quartermaster, AKA "the nelly deli," on Bourbon at Ursulines Avenue; from Central Grocery Company, for Italian specialties, on Decatur; and from Rouse's, the supermarket, on Royal at St. Peter Street. For snacks, we had beignets, the fried, donut-like confections, liberally sprinkled with powdered sugar, from Café Beignet, on Royal, near the Court House and the police station, and from 24-hour Café du Monde, near the river, on Decatur, across Jackson Square park from St. Louis Cathedral, and the Presbytère and Cabildo, once the French and Spanish colonial seats of government and now museums.

Two parting images:
On February 16, Mardi Gras: Somebody's holiday ended dramatically. Flames, hypnotic to watch, engulfed the second story apartment and balcony of a small building on Bourbon Street, near the corner of Ursulines Avenue, at about 11 p.m., as nearby bar Lafitte's Blacksmith Shop (not to be confused with gay bar Lafitte in Exile) rudely played "Disco Inferno" for accompaniment. Huge hook-and-ladders seemed to have trouble negotiating the tight corners on narrow French Quarter streets, but firefighters succeeded in rescuing the three people in the building and eventually got the two-alarm blaze under control.

On February 17, Ash Wednesday: outside Lafitte in Exile, handsome Metropolitan Community Pastor, Rev. Clinton Crawshaw administered ashes and a blessing to the gay faithful, kicking off the Lenten season that follows the Carnival season, relieving them of the need to go all the way-three blocks-to the cathedral.
And a parting message:

Laissez les bon temps rouler!


- - - - - - - - - - - - - - - - - - - - - - - - - - - - - - - - - - - - - - - - - - - - - - - - - - - - - - - - - - - - - - - - - - - - - - - - - - - - - - - - - - - - - -



Sponsored Links



The Best Of Fire Island
Fire Island Pines, Cherry Grove, Davis Park, Water Island Residentials Sales and Summer Rentals.
www.thebestoffireisland.com



Fire Island Realtors
The best summer rentals properties and homes for sale in all of Fire Island, The Pines and the Grove
www.fireislandrealtors.com



Fire Island Q News
Monthly Gay Webzine, Fire Island Pines & Cherry Grove, LGBT Resort Communities on the Atlantic.
www.fireislandqnews.com



New York Q News
Gay E-zine with everything hip and happening in New York City. News and events all around the city.
www.newyorkqnews.com



Residential Sales & Summer Rentals
Fire Island Pines & Cherry Grove Homes For Sale & Summer Rentals: Season, Month & Weekly.
www.cjmingolelli.com



New York City Homes
Looking to Sell or Buy your new home. Contact two specialist in the Manhattan market.
www.pde-tworealtorscom



New York's Performances & Arts
Theater, Performing Arts and Entertainment Reviews in the New York City metropolitan area.
www.qonstage.com



Shopping Online? - Gives Us a Try!
Online Mega Mall. Your community online shopping mall/Apparel, Books, Movies and more ...
www.qnewsmegamall.com