Candlelight March & Call to Action Mark 18th Annual Out of the Darkness Observance of World AIDS Day
by Bruce-Michael Gelbert |



| | |
| --- | --- |
| | A FRIEND |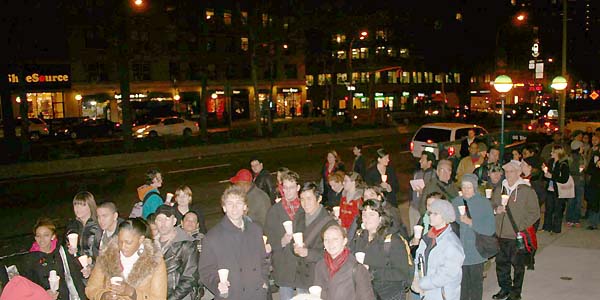 photo by Bruce-Michael Gelbert
Candlelight March
........................................................................................................................................................................................................
A candlelight march along upper Broadway and a program of speeches and performances marked the 18th annual Out of Darkness observance of World AIDS Day on December 1. After a blessing by Reverend Heidi Neumark, of Trinity Lutheran Church, which houses Trinity Place shelter for homeless LGBT youth with AIDS/HIV, Brent Nicholson Earle, of Out of Darkness and the American Run to End AIDS (AREA), Rev. Neumark, and Rev. Pat Bumgardner, of Metropolitan Community Church (MCC) led a candlelight march from 100th Street and Amsterdam Avenue, where Trinity is located, over to and down Broadway to 93rd Street for a World AIDS Day gathering, consisting of call to action-themed speeches, performances, and a reception, at the Broadway United Church of Christ (BUCC), where names of those lost to AIDS were read, art by the late W. Maxwell Lawton and Mel Cheren decorated the altar and northern wall, AIDS quilt panels were displayed, and music was supplied by Slaag Records' Glenn Thornton. The observance was dedicated to the late Rodger McFarlane, of Gay Men's Health Crisis (GMHC), Alice Terson, and all of those who have died of AIDS or are living with AIDS/HIV.

Fan and flag dancers and the Vogue Evolution Dance Crew performed in memory of activists lost to AIDS and in honor of those still living with AIDS/HIV. BUCC Director of Music Douglas O. Drake played "Surely the Presence of the Lord" and Rev. James Campbell welcomed the community to the church. Reviewing the three decades of AIDS, Earle, in his traditional black t-shirt with names of those he lost to AIDS printed in white, spoke of the "challenges facing each generation," saluted President Obama for ending the ban on people with AIDS and HIV entering and traveling within the United States, recalled the first GMHC Morning Party on Fire Island, and read his optimistic poem "Beach Glass." Gay Marshall sang plangent and stirring bilingual renditions of Edith Piaf songs "Hymn to Love" and "Right to Love."

Speaking of women and children and the epidemic, Evelyn Britt remembered her son, who, through GMHC, had lobbied state and federal legislatures for AIDS funding until he died in 1996, and spoke of her own volunteer work for GMHC. HIV-positive Carol Logo spoke of the daughter, just seven years old, whom she had lost to AIDS, and her son, Trammel, talked about having a mother with AIDS and returning from Boys' Choir of Harlem tours to find her ill.


| | |
| --- | --- |
| | |
| photo by Bruce-Michael Gelbert | |
| Brent NicholsonEarle | |
| .................................................................................................... | |
Simply Rob recited his poems about testing positive, about insidious misinformation about AIDS, and about surviving.

Representing the House and Ball community, explored in the film "Is Paris Burning?,"

Hector Xtravaganza, of the House of Xtravaganza, Luna Ortiz AKA Luna Legacy, of the House of Legacy, and young Dominque Crisden, of the House of Lacroix, shared their experience of living with AIDS/HIV for more than half their lives, and Tiah Legacy Carrera performed to "When Love Takes Over."

Revs. Neumark and Campbell, Emily Brown and Oliver Martin of BUCC, Jason Kaufman of Congregation Beth Simchat Torah, and James Morgan of the New York Zen Center for Contemplative Care blessed the contents of safer sex kits. Rev. Bumgardner issued a fiery call to action, speaking of initiatives to fight AIDS in unlikely corners of the globe, in the face of oppression and discrimination, and urged the assembled to keep pressure on Obama and other leaders to make good on promises concerning funding for AIDS care, prevention, and information, which she termed "a right."

Miguel Afanador, Shawn Carvajal and Michael Heriquez of Teatro El Puente, and Jack McKeane gave a further call to action, ending with a community chant of "Act up! Fight back! Fight AIDS!," and Tom Weber, of Services and Advocacy for GLBT Elders (SAGE), acknowledged the co-sponsors of the proceedings, which, beside those noted, were ACT-UP New York, GMHC, International AIDS Prevention Initiative, the Keith Haring Foundation, LIFEbeat: Music Industry Fights AIDS, and the Puerto Rican Initiative to Develop Empowerment (PRIDE).

A further, slightly belated observance of World AIDS Day will take place on December 6 at 3 p.m. at St. Mark's Church, 131 East 10th Street, at Second Avenue, when, under the auspices of Downtown Music Productions, heldentenor Gilles Denizot and pianist (and conductor) Mimi Stern-Wolfe offer a recital remembering composer Chris DeBlasio, who passed away in 1993, with performances of his song cycles "All the Way Through Evening" and "Villagers," to poetry by Perry Brass and Ilsa Gilbert. The wrenching "Walt Whitman in 1989," from the former, also became part of the collaborative "AIDS Quilt Songbook" in 1992. In addition to the DeBlasio songs, Denizot and Stern-Wolfe will perform Johannes Brahms' "Vier ernste Gesänge" (Four Serious Songs). Admission is a suggested donation of $12 and 212/477-1594 is the telephone number to call for reservations.


- - - - - - - - - - - - - - - - - - - - - - - - - - - - - - - - - - - - - - - - - - - - - - - - - - - - - - - - - - - - - - - - - - - - - - - - - - - - - - - - - - - - - -



Sponsored Links



The Best Of Fire Island
Fire Island Pines, Cherry Grove, Davis Park, Water Island Residentials Sales and Summer Rentals.
www.thebestoffireisland.com



Fire Island Realtors
The best summer rentals properties and homes for sale in all of Fire Island, The Pines and the Grove
www.fireislandrealtors.com



Fire Island Q News
Monthly Gay Webzine, Fire Island Pines & Cherry Grove, LGBT Resort Communities on the Atlantic.
www.fireislandqnews.com



New York Q News
Gay E-zine with everything hip and happening in New York City. News and events all around the city.
www.newyorkqnews.com



Residential Sales & Summer Rentals
Fire Island Pines & Cherry Grove Homes For Sale & Summer Rentals: Season, Month & Weekly.
www.cjmingolelli.com



New York City Homes
Looking to Sell or Buy your new home. Contact two specialist in the Manhattan market.
www.pde-tworealtorscom



New York's Performances & Arts
Theater, Performing Arts and Entertainment Reviews in the New York City metropolitan area.
www.qonstage.com



Shopping Online? - Gives Us a Try!
Online Mega Mall. Your community online shopping mall/Apparel, Books, Movies and more ...
www.qnewsmegamall.com