Bucks MC Holds Exhilarating Santa Saturday®, 36th Annual Leather/Bear Charity Event, Now Officially in Asbury Park
by Bruce-Michael Gelbert |



| | |
| --- | --- |
| | A FRIEND |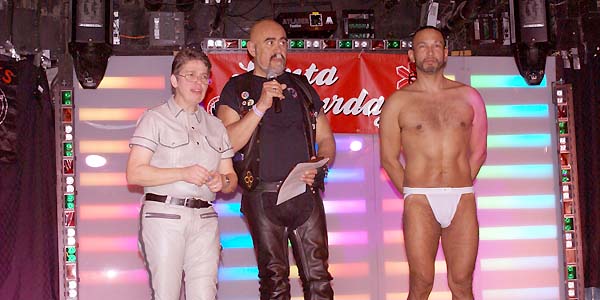 photo by Joseph R. Saporito
auctioneer Jo Arnone, Bucks MC VP JR & Mr. NJ Leather 2010 Damian Parra
........................................................................................................................................................................................................
The Bucks Motorcycle Club, based in Bucks County, Pennsylvania, held its 36th annual Santa Saturday®, the leather and bear fundraising event, for which the club has exclusively the registered trademarked name, on November 28 at the Paradise club at the Empress Hotel in Asbury Park, New Jersey, the second at that location after 34 years in New Hope, and an exhilarating function it was once again.

The charitable beneficiaries of the proceeds were the Center, an AIDS services organization in Asbury Park; HIV/AIDS testing and counseling agency Check-Mate of Monmouth County; the Visiting Nurse Association of Central Jersey Community Health Center; and the Bucks County Area Agency on Aging.

The centerpiece of the afternoon was a benefit auction, with barker par excellence Jo Arnone presiding, and the zestily ribald highlight of it was bidding on items of apparel and accoutrements worn by Mr. New Jersey Leather 2010 Damian Parra, with top bidders welcome to remove their particular prize directly from his body. A new addition to the finale of the auction was that people were invited to line up to stuff Damian's jockstrap full of cash, for the charities, before it and his cock ring were removed, backstage, out of the audience's sight, by the lucky buyers. (Guess who was top bidder for the jockstrap?) Needless to say, sexy Damian was the recipient of numerous tongue baths, kisses, and lingering touches that afternoon-all for good causes.

Gift certificates for hotels and restaurants; leather pants and vests, including a vest with Merlin hand painted on the back; original artwork and framed lithographs; bear-and-cub calendars; clothing originally worn by porn actor Drew Andrews; and a colorful knitted afghan were among the other items auctioned off. Bucks MC President Nikk Kriss, Foreplay, the leather/bear/kink block party, and A Bears Life magazine donated many items and Jo Ann Wadsworth helped coordinate the auction.


| | |
| --- | --- |
| | |
| photo by Bruce-Michael Gelbert | |
| Santa | |
| .................................................................................................... | |
There was also entertainment between groups of auction items. Gary Christ, a veteran of all 36 years of Santa Saturdays®, offered "All That Jazz," from "Chicago," in flapper mode; "I'm Tired," from "Blazing Saddles;" and, as Liza Minnelli, "Alexander's Ragtime Band" and "Maybe This Time." Bucks Treasurer Teyd Jamison, celebrating 33 years of partnership with Kriss, sang a proud "I Gotta Be Me," and swinging title song from "On a Clear Day You Can See Forever," "Almost Like Being in Love," from "Brigadoon," and "This Can't Be Love," from "The Boys of Syracuse." Maxine, as Cher, in a towering gold crown, declared herself "Strong Enough;" presented an award from the Santa Saturday® entertainers to official photographer Mike Prestia; and, with Ms. NJ Leather 2010 Morgaine and Bucks Vice-President John Ramos, assisted in the stripping of Damian. There was a comic Cher from Keith Opperman, querying, "Do you believe I've lasted this long?" and he was also Susan Boyle doing, of course, "I Dreamed a Dream," from "Les Misérables." Paradise's own Lady Marisa was in season with a hot dance arrangement of "The Christmas Song" and, in glitzy costume, "Santa Baby." Karen Thomas, Santa Saturday® virgin Sasha James, and Bucks VP JR, singing an a cappella "White Christmas," also entertained.

The Bucks presented awards to C J Gascoyne, of Paradise, now the official home of Santa Saturday®, and to Kriss and Teyd, among others. Leatherwear from Passional boutique, in Philadelphia, was on sale at the event, as was the new ABL Gold Lifestyle discount card, from A Bear's Life magazine. One could also have one's photo taken with a bear Santa Claus in the Empress lobby.



- - - - - - - - - - - - - - - - - - - - - - - - - - - - - - - - - - - - - - - - - - - - - - - - - - - - - - - - - - - - - - - - - - - - - - - - - - - - - - - - - - - - - -



Sponsored Links



The Best Of Fire Island
Fire Island Pines, Cherry Grove, Davis Park, Water Island Residentials Sales and Summer Rentals.
www.thebestoffireisland.com



Fire Island Realtors
The best summer rentals properties and homes for sale in all of Fire Island, The Pines and the Grove
www.fireislandrealtors.com



Fire Island Q News
Monthly Gay Webzine, Fire Island Pines & Cherry Grove, LGBT Resort Communities on the Atlantic.
www.fireislandqnews.com



New York Q News
Gay E-zine with everything hip and happening in New York City. News and events all around the city.
www.newyorkqnews.com



Residential Sales & Summer Rentals
Fire Island Pines & Cherry Grove Homes For Sale & Summer Rentals: Season, Month & Weekly.
www.cjmingolelli.com



New York City Homes
Looking to Sell or Buy your new home. Contact two specialist in the Manhattan market.
www.pde-tworealtorscom



New York's Performances & Arts
Theater, Performing Arts and Entertainment Reviews in the New York City metropolitan area.
www.qonstage.com



Shopping Online? - Gives Us a Try!
Online Mega Mall. Your community online shopping mall/Apparel, Books, Movies and more ...
www.qnewsmegamall.com