Big Apple Corps, the LGBT Band, Celebrates Big 3-0 with Symphony Space Concert, with Guest Appearance By Composer-Pianist James Adler
by Bruce-Michael Gelbert |



| | |
| --- | --- |
| | A FRIEND |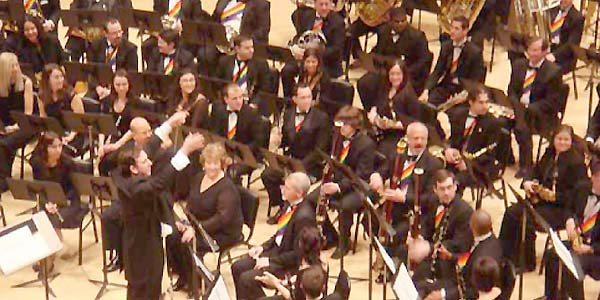 photo provided by Big Apple Corps
'Lesbian & Gay Big Apple Corps Symphonic Band
........................................................................................................................................................................................................
Much of our community's principle acquaintance with the Lesbian & Gay Big Apple Corps, which this year marks the 30th anniversary of its founding, is as the marching band with a prominent presence in the annual LGBT Pride March on the last Sunday in June. And it was in a similar capacity that 40 of its members joined another 137 members of the Lesbian and Gay Band Association from all over the country to participate in a most historic occasion this past January, marching in President Barack Obama's inaugural parade, the first time an LGBT band has ever been invited to perform in this quadrennial national event. These combined forces played such selections as the "Ode to Joy," from Beethoven's Ninth Symphony, "Hold on I'm Coming," the "Manhattan Beach March," "Brand New Day," and the "Washington Post March" to great acclaim.

But the Corps has another distinguished incarnation as well, more likely to be encountered indoors, as the Lesbian & Gay Big Apple Corps Symphonic Band, and it is in this form that the Corps, more than 100 musicians strong, under the baton of Artistic Director Brian P. Worsdale, who has led the band since 2005, will give a pearl anniversary concert, billed as "Generations: a 30-Year Celebration," at Peter Norton Symphony Space, 2597 Broadway at 95th Street, on November 14 at 8 p.m.

To mark its three decades of promoting pride through music, the Corps will play not only classical and band standards, but also works by composers, past and present, whom we claim as our own, and songs that we've adopted as LGBT anthems. You'll hear Ottorino Respighi's colorful "Pini di Roma" ("The Pines of Rome"), Dmitri Dmitriyevich Shostakovich's "Festive Overture" in A Major, and John Philip Sousa's march "The Thunderer." From Broadway come selections by Leonard Bernstein, from "West Side Story," and Jerry Herman, from "La Cage aux Folles;" from Hollywood, there's Harold Arlen's "Over the Rainbow," from "The Wizard of Oz;" and from grand opera, revel in the third act Bacchanale, the ballet music from Camille Saint-Saëns' Biblical epic, "Samson et Dalila."

A much-anticipated highlight of "Generations" will be the world premiere of James Adler's "Allegro Scherzando: A Celebration" for piano and concert band, a pièce d'occasion written for and dedicated to the Corps, in homage to its 30-year history, which will feature the composer as piano soloist. Creator of such works as the haunting "Memento Mori: An AIDS Requiem," "Reflections upon a September morn," to poetry of Walt Whitman, and "3 Piano Transitions," which includes the inventive "Two Dances in One: Calypso cum Cakewalk," Adler has frequently appeared with the band, playing his showpiece, Gershwin's "Rhapsody in Blue," at the Paramount at Madison Square Garden with the combined Gay and Lesbian Bands of America, for Stonewall 25/Gay Games IV in 1994, and at Fashion Institute of Technology for the Big Apple Corps' own "Silver Jubilee" in 2004.

For advance tickets for "Generations: a 30-Year Celebration," at $15, 18 or $25, go to www.symphonyspace.org.


- - - - - - - - - - - - - - - - - - - - - - - - - - - - - - - - - - - - - - - - - - - - - - - - - - - - - - - - - - - - - - - - - - - - - - - - - - - - - - - - - - - - - -



Sponsored Links



The Best Of Fire Island
Fire Island Pines, Cherry Grove, Davis Park, Water Island Residentials Sales and Summer Rentals.
www.thebestoffireisland.com



Fire Island Realtors
The best summer rentals properties and homes for sale in all of Fire Island, The Pines and the Grove
www.fireislandrealtors.com



Fire Island Q News
Monthly Gay Webzine, Fire Island Pines & Cherry Grove, LGBT Resort Communities on the Atlantic.
www.fireislandqnews.com



New York Q News
Gay E-zine with everything hip and happening in New York City. News and events all around the city.
www.newyorkqnews.com



Residential Sales & Summer Rentals
Fire Island Pines & Cherry Grove Homes For Sale & Summer Rentals: Season, Month & Weekly.
www.cjmingolelli.com



New York City Homes
Looking to Sell or Buy your new home. Contact two specialist in the Manhattan market.
www.pde-tworealtorscom



New York's Performances & Arts
Theater, Performing Arts and Entertainment Reviews in the New York City metropolitan area.
www.qonstage.com



Shopping Online? - Gives Us a Try!
Online Mega Mall. Your community online shopping mall/Apparel, Books, Movies and more ...
www.qnewsmegamall.com