La Dolce Vita
By TIM STEFFEN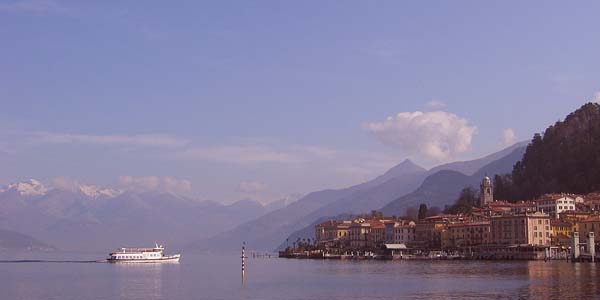 photo by Tim Steffen
Bellagio
My benchmark for enjoying a vacation is if I don't do everything there is to do in a foreign city; in this way, I always have a legitimate reason to return: "Darling, I didn't get to see the Tintorettos. We simply must go back to Venice." To some this is ineffable. I know there are those who like to book their days with visits to every popular site, museum, and point of interest, but when they're done, they're exhausted and only have a vague recollection of what they've experienced, evinced by the five hundred digital photos. I'm not trying to disparage this kind of journey, but I ask: by living behind the lens, by rushing around and not being aware of the beauty of each moment during a trip, are we missing out on the rich possibilities that travel affords?

If you are going to Italy, slow down when you arrive. When I traveled there, I figured everything I might want to see would be there when I returned another time. I'd like to see Rome and Capri on the next trip. So rather than cram everything into two weeks, my boyfriend and I were more discriminating. We chose more time in fewer cities, and the overall experience was rich and fully textured with breathtakingly beautiful experiences that might have been precluded if we had stuck to a "plan."

With that in mind, there are a few Italian experiences on my list of recommendations that seem obvious, but there are others you might not read about in Frommer's. The more obscure suggestions support my belief that travel is about immersing oneself in a new culture and embracing its people, rather than about trying to remain the staunch American.

This isn't to say that we didn't have a plan for our trip. We knew we would be in Venice for four days, in Florence for two, in Cortona for two, and in Bellagio, on Lake Como, for the rest of the trip. We planned our trip like this-moving from bigger, busier cities to smaller, quieter towns-on purpose, because we knew that, by the end of two weeks, we would need this. My boyfriend had lived in Italy on and off several years ago, so I had a trusted tour guide, but we left plenty of room for spontaneity, and were never so inflexible that we couldn't change plans if one of us wanted to. In fact, we loved Bellagio so much that we stayed an extra two days.

Lastly, may I suggest that, if you go with a friend, lover, partner, husband, wife, drag queen, whatever, you don't have to do everything together. It is important to have time to oneself on vacation. It is actually healthy and gives you the time to reflect on the moments that coalesce into a superlative, personal vacation.


| | |
| --- | --- |
| | |
| photo by Tim Steffen | |
| Venice - Feeding the birds | |
Venice
When I go to a new city, the first thing I like to do is sit down in a café or bar and simply watch people, get the vibe of the town, and ease myself into the experiences that might be possible when I let myself go with the flow. Venice hasn't changed in a thousand years. Its buildings and streets are in a time capsule, so that when you perambulate the city, you are walking the same jutting cobblestones as the old Doges did. It is a city of ghosts and I could almost imagine ancient Venetians sidling past me in dark, narrow alleys. The city is filled with churches, museums, and an array of nighttime concerts and operas celebrating the music of the Italian Renaissance.

1. Get Lost
Try not to use your map on the first day. Just stroll and get lost-it's easy to do. It is a well-known fact that native Venetians will occasionally get lost. But no matter, there are plenty of people around who are happy to give you directions if you ask, "Potrebbe aiutarmi?" You may have to ask a few times, though. Listen to the sounds of Venice. At an outdoor café I closed my eyes and heard a mixture of French, English, and Italian voices; seagulls near a fish stand; tinkling piano music; the engine roar of the vaporetti, the city's water taxis; a puppy barking; cups being set in saucers; the flutter of pigeon wings. Each city has its own unique sounds. Take the time and simply listen.

2. Harry's Bar
Harry's Bar is an institution, not just in Paris, where American expatriates frequented it in the earlier part of the 20th century, but in Venice, too. It's expensive, so if you don't want to have dinner there, simply go at night and imbibe a delicious Bellini, one if Italy's signature cocktails made traditionally from prosecco and peach purée. Sit, bring a journal, and write or sketch the many characters that walk through the door. There was an impressively corpulent man, who reminded me of Sydney Greenstreet holding court in a corner table. Caveat emptor, though-three Bellinis-I had two-cost fifty-one Euros! Non posso!

3. Basillica and Birds and Coffee-Oh My!
If you go at the right time of the year, namely spring or autumn, the line leading into the famous basilica will be short. Take your time and, beside the stained glass windows and hanging lanterns that evoke the Byzantine era, take particular note of the wonderful mosaic patterns on the floor. If you like to live on the edge, try taking photos and see how long it takes for a guard to yell, "Non fotografie!"

After touring the basilica, buy a packet of birdseed from a vendor in the piazza, pour some in both hands, extend your arms and wait. Flocks of pigeons will fly down, perch on your shoulders and head, and gobble up your bountiful gift. Although the feeling is a bit strange and creepy, it's truly the inimitable Venetian tourist experience.

When you're done acting out your part as an extra in the remake of Hitchcock's "The Birds," stroll over to Caffe Florian, which, since 1720, has been serving coffee in its gilded, ornamental salons that are, bar none, the most elegant in all of Venice. If the weather is nice, ask to sit outside so you can watch the passersby and tourists getting mobbed by the marauding pigeons.

4. The Other Guggenheim
Peggy Guggenheim was a major art collector of the modern era. Visit her home-turned-museum and view the fascinating collection including works by Picasso, Miró, and Kandinsky. Outside, take a gander at the plaque over the graves of Peggy's fourteen dogs. She's buried next to them.

5. Drink Like A Local
Before dinner at the many restaurants in the city, stop by the relaxed wine cellar known as Vini al Bottegon, across from the Chiesa di San Trovaso, and have a prosecco under the low rafters and hanging bulbs, where locals frequent. You can even take your drink outside and stand along the canal. It's a true out-of-the-way, standing-only bar, and you'll feel like a real local. Salute!

6. Gondola Schmondola!
The gondola rides are extremely overpriced, but if you're hankering for a ride on one, simply take a "traghetto" (Italian for ferry). It offers you the opportunity to have a brief ride in a gondola for roughly $1US. We took one across the canal opposite the Church of Maria della Salute. The tradition is to stand stoically, rather than sit.

7. If It's Not Baroque...Don't Fix It
Venice is the city of Vivaldi, and what better way to experience the composer's masterwork, "The Four Seasons," than attending an evening concert at the Chiesa San Vidal. The chamber orchestra is fantastic, but my boyfriend and I wondered if they weren't a bit crazed to play the same music every night for decades. Keep your eye out for the cellist who knows the entire score by heart and uses no music. He's manic! Bravi! Also take special note of one of the church's sculptures that is missing three fingers, the middle one pointing up most blaringly to all who happen to notice, but don't take offense: he doesn't mean it.

Florence
While nothing moves too quickly in Italy, we found Florence the busiest of our destinations. The streets were filled with travelers and lovers of art and architecture. There was a buzz in the air that made it different from Venice. Whereas Venice was the more sedate town, Florence was alive and bustling. With the Duomo commanding the Florentine skyline, the city is a labyrinthine maze of cobblestoned streets that house many treasures and prospects for eclectic shopping, museum visits, and concerts.

1. No-Tel vs. Hotel
You don't have to book a hotel in advance for your visit to Florence. This was something unknown to me. I tend to be a bit persnickety, wanting to know that I have a place to stay when I arrive in a new city, but my boyfriend asked me to trust him that we'd find a place on arrival. He wasn't kidding. As soon as we stepped off the train there was a gentleman waiting for us, like a personal valet. Ecco! He was an Italian caricature, like an extra from a 1930s Warner Brothers film. He asked us if we needed a place to stay, handed us a brochure detailing the amenities of his family's diminutive hotel, gave us a great rate, and walked us the short distance to the pensione. Presto! No frills, just simplicity. When I pulled back the curtains in our room and opened the windows, the massive Duomo seemed so close that I could almost touch it.

2. The Best Cappuccino in the World
After you unpack, take a walk to the Piazza Repubblica and grab a table at Caffè Gilli, where they serve, without a doubt, the best cappuccino in the world. Delizioso! Sit and watch the people of Firenze come and go and sip your lovely brew. After this, walk a few steps to the carousel. I've said it before, and I'll say it again, if there is a carousel, ride it. It gives you a new perspective and awakens the dormant child within.

3. Fiesole
Take the bus up to the surrounding Florentine hills to the town of Fiesole. Go at dusk, when the sun is setting over the city. Stand at the top of the highest hill and bask in the breathtaking panorama of a truly extraordinary city. If you're hungry, go to La Reggia degli Etruschi, a restaurant and enoteca (winery), which offers traditional Tuscan food and a fantastic wine selection. Ask for a table by the window, order a nice chianti, and partake of the signature cheese platter while you immerse yourself in the magic of the incomparable view.

4. Brunelleschi's Dome
The Duomo-the Basilica di Santa Maria del Fiore-is the cathedral church of Florence. It is the life's work of the genius architect, goldsmith, artist, and Renaissance man Filippo Brunelleschi. Between 1420 and 1436, he designed and built the largest dome ever known, only exceeded when 20th century building materials, like steel and concrete, became available. His creation is a celebration of the divine power of the individual. Before your trip to Florence, read the book "Brunelleschi's Dome," by Ross King. I always find that reading a novel or historical non-fiction, about the city you're going to visit, is riveting and gives one a unique perspective. Buy your admission ticket and make the arduous trek up the steep, circuitous stairs to the top of the Duomo. If you're claustrophobic, you might reconsider, but the payoff, when you emerge outside on the parapet surrounding the dome, is an experience that is at once sublime and exhilarating. All of Florence is yours!

5. San Miniato
Walk across the famous bridge, the Ponte Vecchio, and find your way to a set of vertiginous steps that lead up to the Piazza Michelangelo, which overlooks Florence. When we reached the top, we stopped at an outdoor café and bought a bottle of water, while a host of nuns ordered their gelati. Above the piazza is a church called San Miniato al Monte, built on one of the highest spot in Florence. Make it a point to walk through and take in all the wonderful mosaics in a place described as one of the most beautiful Romanesque churches in all of Italy.

6. Suit Up
In Paris, I bought a pair of shoes, and in Italy you can do the same, or not. For me, there is nothing like the cut of an Italian suit, so if you are in the market for, one wait until you travel to Florence. You can find a gorgeous suit for half the price that one would be in the states. Rather than go to an exclusive men's store, you can find a great suit in a simple place like Sisley, a chic division of the Italian label Benetton. There's a store at the Piazza Repubblica. I bought a great black suit, which Sisley tailored for me. It was ready for pick-up at the end of the day. If you're a woman, buy yourself a nice Italian-made dress!

7. Accademia Museum
What's a trip to Florence without viewing Michelangelo's "David?" I didn't see the blatantly placed signs forbidding photography, so when I snapped a few shots, a guard hissed at me. It's truly wonderful to sit by the unexpectedly massive statue and watch silver-haired seniors from Omaha eyeing the massive buttocks of Michelangelo's masterpiece. And make sure to study his enormous hands, hugely out of proportion to the rest of his body, but exquisite. It was an electric experience and, like all great works of art, it made me want to cry.

8. Santa Croce
A visit to Florence is not complete without a serpentine stroll through the incomparable church, Santa Croce, lovingly depicted in E.M. Forster's, "A Room With A View." It is a magnificent edifice, replete with original frescoes by Giotto, who was the first artist to embrace an attempt of realism, instead of the static, flat, gothic art. The frescoes are deteriorating, but offer a great glimpse into a revolutionary movement in art that others built upon, culminating in the fantastic realism of Tintoretto.

9. Farmacia di Santa Maria Novella
Stop by this antique pharmacy, known as the most beautiful in Europe. It dates back to 1612 and is located in a frescoed side-chapel of the Santa Maria Novella church. This gorgeous store sells luxury articles, fragrances, and beauty products. Browse the balms, tinctures, liqueurs, teas, infusions, and powders. It also has a wonderful line of hand-molded soaps in scents like pomegranate.

Cortona
Located in the hills of Tuscany, Cortona is an Italian town untouched by time. Small, intimate, and inviting, Cortona was a welcomed respite from the touristy cities of Venice and Florence. There is plenty to do in the surrounding countryside, but we preferred to stay in town, taking leisurely walks, idly shopping, sitting and sipping wine and cappuccinos.

1. Hotel Italia
In the Florence train station, Firenze Santa Maria Novella, be a good ex-pat and buy a Herald Tribune for your train ride to the Tuscan hills of Cortona. From the Cortona train station, take a cab up the steep, winding road to your hotel. For us, the only place to stay was the moderately-priced boutique hotel, Hotel Italia, in the center of town in a 16th-century mansion. The top-floor dining terrace, which offers views of the Valdichiana Plain and Lake Trasimeno, is a spectacular place to enjoy your complimentary breakfast before the start of the day. The hotel also rents bicycles on site so you can explore the town.

2. Have a Picnic
Cortona is an ancient Etruscan town of meandering streets that run up and down the dizzying hillside. You really can't get lost in this diminutive village, so leave your map behind and wander around the town featured prominently in Francis Mayes' book "Under the Tuscan Sun." There is a small grocery in the Piazza della Repubblica where you can buy cheese, bread, and wine for a picnic. Walk to the top of the town to the church called Santuario Santa Margherita. Behind the church, up a winding road, there is a perfect place to sit on a grassy bank, eat, drink, and take in the view of the Tuscan countryside. After you've basked in the sun, perhaps pleasantly buzzed from the wine or simply the scenery, walk back to the piazza and sit at one of the several outdoor cafés to enjoy a well-deserved respite from a day's walking.

3. Trattoria la Grotta
There are many wonderful restaurants in Cortona, but our favorite was Trattoria la Grotta, located on a dead-end street off the Piazza dell Repubblica. On our last night, we ordered by far the best bruschetta to ever pass my lips. I recommend the gnocchi for the second course. The restaurant is warm and cozy, set in a series of stone and brick-walled rooms that evoke a time medieval. We ate leisurely and the service was impeccable. Make sure to order their special dessert: Panna Cotta Con Frutti di Bosco (translation: Kitchen Cream with Wood Fruit!)

| | |
| --- | --- |
| | |
| photo by Tim Steffen | |
| View of Florence from San Miniato | |
Bellagio
What can I say about this magical town? Bellissimo! Nestled between hills and mountains at the foot of the Italian Alps, it is as if you stepped back in time and place. The backdrop seemed to me like a Hollywood matte painting, because the beauty is almost excruciatingly unreal. Clouds often wander in over, around, and between the mountains. Sometimes they linger in pockets, as if floating there like omnipresent observers, taking time to stop and appreciate the view below. At night, if you're fortunate to have a hotel room with a view, see the lights across the lake sparkle and shine, and you know that this is the place you were meant to be. I loved this town so much that, on the eve of our departure, I cried, because I didn't want to leave. My boyfriend acquiesced, so we changed our flight reservations and stayed two more days. Spontaneity must be the watchword of Italian travel.

1. Local or Express?
We arrived at the train station in Como and took a taxi to the ferry terminal on the edge of Lake Como. The ferries link the dozens of small towns and villages that dot the expansive y-shaped lake. You can take the "fast" or "slow" boat. Since it was my first time to Como, we took the slower one with no regrets. Weather permitting, sit on the top deck and look out across the Alps towards the north as your boat sails along one of the deepest lakes in Europe. It's enchanting.

2. Hotel Splendide
The Hotel Splendide is a three-star hotel in which my boyfriend has always stayed when in Bellagio. For 100 Euros per night we had a large, lovely room, with a little terrace, overlooking the lake and mountains. The staff was incredibly gracious and accommodating and spoke excellent English. I don't particularly like the Hiltons, Four Seasons, and Best Western tourist trap hotels. I prefer the kind of hotels that are peculiar and eccentric like the Splendide; the kind that don't evoke a clean, glossy, cookie-cutter corporate feeling. Yes, the hotel is old. Yes, it has lost its former splendor and elegance. We liked the atmosphere, though. We embraced the little cracks, the chips in the wall paint, the huge creaky oak doors, and the romance of the faded glory of a hotel of yesteryear. It was easy for me to imagine Edwardian era women in bustles and men in stiff collars walking through the hotel and out to the lake for a coffee or Bellini. Like Venice, Bellagio is a place filled with ghosts.

3. Imbibe
There are several small cafés and restaurants along the waterfront, so take your choice, because you can't go wrong. Sit at a lakeside table and revel in the grandeur of a place that I consider one of the most beautiful in the world. Honestly. I would move here in a heartbeat. There's something comforting about mountains, water, and an unencumbered view with a big blue sky. And I knew Switzerland, with its chocolate bars and cuckoo clocks, was not too far away. If you're lucky, you might strike up a conversation with a local, as we did with an old grande dame named Rosamaria, who said in her deep, craggy voice, "Forgive me for talking too much, but it is hard to find good conversation." No apology necessary, signora.

4. Jam and Cheese
There is a little restaurant whose name I simply can't remember, but I know the word "Grotto" is in its name. It's owned by a brother and sister and was our favorite restaurant in Bellagio. When we stepped inside we felt like we were in an ancient wine cellar from the days of yore. Each and every wall held a wine shelf filled top to bottom with exquisite regional wines. The cheese plate was exceptional, served with a local fruit jam that, when paired with a provincial cheese, like Asiago, and bread was a delectable delight we had to repeat two days in a row.

7. Top of the Rock
Above the town of Bellagio is the Rockefeller Center, a place that offers residencies for artists and thinkers to work on their craft and meet and discuss ideas related to international understanding. Free tours, which I highly recommend, are available. Even if you're not interested in the center, take the tour because it's a wonderful walk into the woods, up a hill to the highest point in Bellagio, where you emerge on a lookout point that provides a superb vista of the east side of the lake. You won't get this anywhere else.

8. Alberto
I'm sorry to say, but the name of the charming antique and souvenir shop we visited almost daily along the main street of Bellagio also eludes me. We frequented not necessarily because of the goods, such as hand-crafted wine bottle stoppers, silver pill boxes, and violet-gemmed butterfly pendants, but because of the store's owner and omnipresent shopkeeper, Alberto. A fascinating man, he has the gift for the gab and an incredible memory-he remembered my boyfriend who had visited years ago. Even if you don't speak Italian, stop by and he will immediately engage you with ease and charm. Ask him questions about Bellagio and Como, and he'll delight you with beautiful narratives and life experiences. If you're fortunate, his sister, Marianella, will also be there. She's quiet, and stands back in the corners demurely while Alberto talks, but is just as charming.

9. Coraggio!
For our last morning, we sat by the lake and said, "A la prossima," which in Italian means "until next time." Although I love the ferry ride, when we finally, reluctantly left Bellagio, we took the bus back to the town of Como. It's better than a rollercoaster ride at Six Flags, so grab a window seat and peer down the steep, vertigo-inducing slopes and wonder how on earth there aren't more accidents! The ride is definitely not for the faint of heart, so: coraggio!

Arrivederci, Italy!

Again, if you visit Italy, take your time, slow down. It's been there for millennia and will still be there when you return, because you will return. Italy gets in your blood. Its people, its food and wine, and its sensibility about the timeless nature of life and appreciating each moment are infectious. The beauty and solace I found in Italy seems almost inexpressible because it was such a personal, life-altering experience, as travel should be. I hold it dear to my heart, deep inside, right next to Paris and the other places in the world that I can visualize when I'm feeling a bit down and need a vacation. That's the wonderful thing about travel: you can always retrieve and relive the memories. I carry Italy with me and I can always go back in my mind, and this is because I took my time, I didn't rush, I sat, watched, listened. Italy is waiting for you. It always has been.


- - - - - - - - - - - - - - - - - - - - - - - - - - - - - - - - - - - - - - - - - - - - - - - - - - - - - - - - - - - - - - - - - - - - - - - - - - - - -



Sponsored Links



The Best Of Fire Island
Fire Island Pines, Cherry Grove, Davis Park, Water Island Residentials Sales and Summer Rentals.
www.thebestoffireisland.com



Fire Island Realtors
The best summer rentals properties and homes for sale in all of Fire Island, The Pines and the Grove
www.fireislandrealtors.com



Fire Island Q News
Monthly Gay Webzine, Fire Island Pines & Cherry Grove, LGBT Resort Communities on the Atlantic.
www.fireislandqnews.com



New York Q News
Gay E-zine with everything hip and happening in New York City. News and events all around the city.
www.newyorkqnews.com



Residential Sales & Summer Rentals
Fire Island Pines & Cherry Grove Homes For Sale & Summer Rentals: Season, Month & Weekly.
www.cjmingolelli.com



New York City Homes
Looking to Sell or Buy your new home. Contact two specialist in the Manhattan market.
www.pde-tworealtorscom



New York's Performances & Arts
Theater, Performing Arts and Entertainment Reviews in the New York City metropolitan area.
www.qonstage.com



Shopping Online? - Gives Us a Try!
Online Mega Mall. Your community online shopping mall/Apparel, Books, Movies and more ...
www.qnewsmegamall.com