"Qtalk" Gives the Gay 'View,' with Hot Topics, Singers & Underwear
By Bruce-Michael Gelbert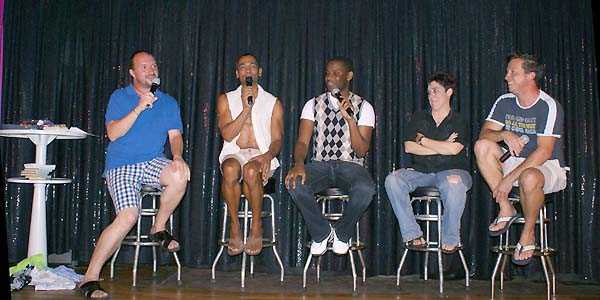 photo by Bruce-Michael Gelbert
Qtalk, with Joseph Macchia, Frantz Hall, Arbender Robinson, Terese Genecco & Stacey Todd Holt

The Ice Palace presented something different for a weekend evening, on July 17, with "Qtalk," a talk show-something of an LGBT version of television's "The View"-complete with hot topics, hot singers, and a hot underwear fashion show. Frantz Hall was the host and Terese Genecco, a Fire Island virgin, the guest host, and Stacey Todd Holt, also new to FI, and Joseph Macchia were the other panelists. Audience participation was encouraged as well.

Discussion of the hot topic, billed as "Relationships: One on One or Free for All," or open relationships vs. monogamy, ranged from agreements between lovers and honesty in openness to commitment-including committed threesomes-exploration and "cheating." The Meat Rack and its etiquette, and the hanky code were also probed.

Assisted by pianist Jeff Cubeta, singer Genecco, a MAC Award Winner, who lives in San Francisco, and has a show at Iridium in Manhattan on the last Tuesday of every month, contrasted a lusty "When You're Good to Mama," from "Chicago," with a wistful "If I Were a Boy," a ballad by Maria Gentile and Karen Cole, encompassing such lines as "Would you love me better if ...?" and "Would my Daddy love me if I was his son?" Arbender Robinson ("Hairspray," "Little Mermaid," and about to join the cast of "Hair"), announced as "the first gay, African-American Disney Prince on Broadway," sang "King of the World (chief of the sea)" in a powerful tenor-with, amazingly just one functional lung-and followed it with a dulcet "Georgia on My Mind," complete with piano interlude from Cubeta.

The evening included an N2N Bodywear fashion show, with some of the briefs modeled by Brandon the Ice Palace lifeguard, bartender Ugo from Jumping Jack's Seafood Shack, and cocktail waiter James from Cherry's.


- - - - - - - - - - - - - - - - - - - - - - - - - - - - - - - - - - - - - - - - - - - - - - - - - - - - - - - - - - - - - - - - - - - - - - - - - - - - -



Sponsored Links



The Best Of Fire Island
Fire Island Pines, Cherry Grove, Davis Park, Water Island Residentials Sales and Summer Rentals.
www.thebestoffireisland.com



Fire Island Realtors
The best summer rentals properties and homes for sale in all of Fire Island, The Pines and the Grove
www.fireislandrealtors.com



Fire Island Q News
Monthly Gay Webzine, Fire Island Pines & Cherry Grove, LGBT Resort Communities on the Atlantic.
www.fireislandqnews.com



New York Q News
Gay E-zine with everything hip and happening in New York City. News and events all around the city.
www.newyorkqnews.com



Residential Sales & Summer Rentals
Fire Island Pines & Cherry Grove Homes For Sale & Summer Rentals: Season, Month & Weekly.
www.cjmingolelli.com



New York City Homes
Looking to Sell or Buy your new home. Contact two specialist in the Manhattan market.
www.pde-tworealtorscom



New York's Performances & Arts
Theater, Performing Arts and Entertainment Reviews in the New York City metropolitan area.
www.qonstage.com



Shopping Online? - Gives Us a Try!
Online Mega Mall. Your community online shopping mall/Apparel, Books, Movies and more ...
www.qnewsmegamall.com