"Pornography," Truly a Thriller, Featured at Philadelphia QFest
By Joseph R. Saporito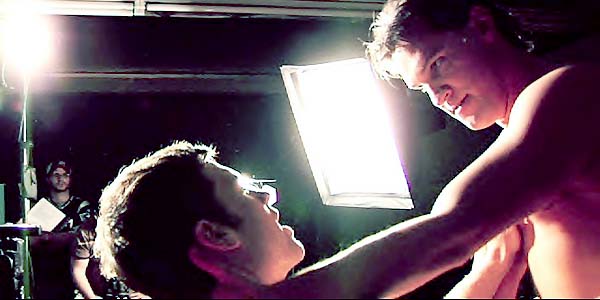 photo courtesy of QFest
"Pornography"

"Pornography" (USA 2009, 113 minutes), a directorial debut film by David Kittredge, is definitely a thriller, as promoted, in something of a David Lynch mode. Kittredge poses disturbing, yet realistic questions, but refuses to answer any of them directly. The audience looks eagerly for the next clue, and sometimes the next clue is revolting, if riveting, in its detail. Kittredge begins his tale in Manhattan. Fourteen years later, we're in Brooklyn, and then find the final scenes set in Los Angeles. The fast-paced movie is broken down into these three compelling segments, one better than the next, and is sure to have you mesmerized until all is revealed at the climax.

We start, in Manhattan, in the final days before Mark Anton (Jared Grey) vanishes. Mark is now a photography student and a classmate catches him doing a crossword puzzle-he likes doing them because there is no ambiguity about them-but the other student knows about Mark's past life as a porn star. An exchange between Anton and his ex-producer is so very well written, directed, and acted that it will have you sitting on the edge of your seat. This scene has the look of an early porn movie, with a very gritty and grainy image, as if we were back in the 1970s or earlier, and Grey portrays his character with authority, never missing a beat. Anton is being paid to do an interview for one night, but matters go awry during the videotaping and turn Mark's life into a surreal, voyeuristic nightmare.

The viewer has no sooner settled into this scene, then the movie skips abruptly ahead 14 years and we're in Brooklyn. A real estate deal is going on and the buyers want to know why the price is so cheap. They are Michael Castigan (Matthew Montgomery) and his lover, William (Walter Delmar), who soon settle into their new loft apartment. Michael is writing a book on porn stars past and finds some clues about Anton's disappearance right in his own new home. Montgomery is completely compelling in his role, and you root for him to solve the mystery.

There is more to come, as we head to L.A. and meet porn-star/writer/director Matt Stevens (Pete Scherer), as he starts to write a script about Mark Anton. Stevens wants to direct and star as Mark Anton in his new porn film and Scherer turns in a stellar performance as this big-time wannabe. Stevens says that he has been a dreamer all his life and suddenly it's déjà vu all over again, as we begin to note that many of the characters in this third part resemble others that we've seen earlier.

Kudos go to Kittredge for a superb cinematic masterpiece, both entertaining and satisfying, which whets our appetite for more of his work. So if you like mysteries, this definitely a movie that you should see, and then see again, to make sure you didn't miss something the first time.

The Philadelphia premiere showings of "Pornography," as part of QFest (www.phillycinema.org), are on July 10 at 7 p.m. and 12 at 2 p.m. at the Prince Music Theater, at 1412 Chestnut Street.

- - - - - - - - - - - - - - - - - - - - - - - - - - - - - - - - - - - - - - - - - - - - - - - - - - - - - - - - - - - - - - - - - - - - - - - - - - - - -



Sponsored Links



The Best Of Fire Island
Fire Island Pines, Cherry Grove, Davis Park, Water Island Residentials Sales and Summer Rentals.
www.thebestoffireisland.com



Fire Island Realtors
The best summer rentals properties and homes for sale in all of Fire Island, The Pines and the Grove
www.fireislandrealtors.com



Fire Island Q News
Monthly Gay Webzine, Fire Island Pines & Cherry Grove, LGBT Resort Communities on the Atlantic.
www.fireislandqnews.com



New York Q News
Gay E-zine with everything hip and happening in New York City. News and events all around the city.
www.newyorkqnews.com



Residential Sales & Summer Rentals
Fire Island Pines & Cherry Grove Homes For Sale & Summer Rentals: Season, Month & Weekly.
www.cjmingolelli.com



New York City Homes
Looking to Sell or Buy your new home. Contact two specialist in the Manhattan market.
www.pde-tworealtorscom



New York's Performances & Arts
Theater, Performing Arts and Entertainment Reviews in the New York City metropolitan area.
www.qonstage.com



Shopping Online? - Gives Us a Try!
Online Mega Mall. Your community online shopping mall/Apparel, Books, Movies and more ...
www.qnewsmegamall.com