Making "Just Say Love" a Mantra, in Philadelphia QFest Film
By Joseph R. Saporito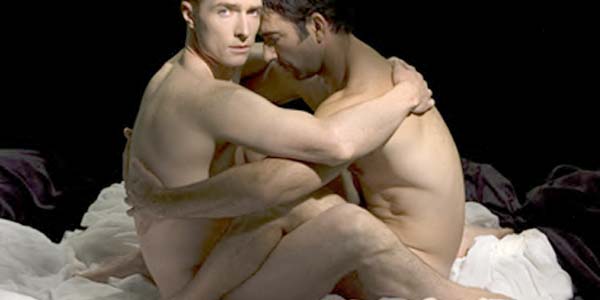 photo courtesy of QFest
'Just Say Love'

Producer and director Bill Humphreys' debut film "Just Say Love" (USA 2009, 90 minutes) is an adaptation of David J. Mauriello's play of the same name, with screenplay by the playwright, and the film very much has the feel of a two-man play, with few props and no frills. Doug English (Robert Mammana) and Guido Salvatore, known as Guy (Matthew Jaeger), realistically portray perfectly matched opposites, who meet on a park bench, where Guy is reading Plato. As he joins Guy, Doug opens a bottle of beer and starts eating a sandwich, both phallic symbols, meant to get the supposed game of love started. Doug has a pregnant girlfriend, expecting a baby boy sometime soon.

The encounter has a straight/gay man tone, involving sex with no strings attached. Doug is an arrogant carpenter, looking for, as he bluntly puts it, "some head." Guy is reciting a passage by Plato about seeing a godlike face, which reminds one of one's own godlike nature. When Guy sees Doug naked for the first time, he believes that Doug is indeed his god. The men are totally different individuals, drawn together by the laws of attraction, but on their own terms. Quoting Plato, Guy says, "Just say love," to himself and to Doug, to help him stay in focus when things seem to careen out of reach, whereas Doug believes that love plays no part in their encounters, only a need to be taken care of.

When the baby is due, Doug leaves Guy. As we see, Guy is waiting for Doug, no matter what the situation, but there is no word from Doug until he telephones Guy to tell him that the baby's name is Charlie, as well as to tell him how much how Guy is like his wife, significantly nicknamed Guida.

Guy is suffering from a bout of loneliness and, finally, he and Doug meet again and their strange relationship takes a stranger turn at Christmastime, leaving both men changed for the better. Something different comes over both of them, as they seem to have been freed to take total control of their lives. Guy cites Plato again, quoting, "We are more than body, we are soul," as we remind each other, by example, of who we really are. Guy and Doug's love is, as they say, "platonic," and a perfect fit, and all the pieces of the puzzle come together in the end.

Jaeger and Mammana are ideal in their delivery, and their eyes reveal their love and/or lust for one another, in this remarkable story of how life has a quirky way of showing us just exactly who we are. Humphreys captures the moments in his protagonists' lives, conveying precisely how they are feeling them and living through them. When Doug walks through a door, accompanied by a puff of smoke, with angelic voices singing in the background, Humphreys convinces you that Doug is, indeed, a god. The only thing missing were more simple props to add to the stark, spare settings.

QFest (www.phillycinema.com), the gay and lesbian film festival, presents the Philadelphia premiere screenings of "Just Say Love on July 18 at 12:15 p.m. and 19 at 9:15 p.m. at the Ritz East, in Theater One, at 125 South Second Street.


- - - - - - - - - - - - - - - - - - - - - - - - - - - - - - - - - - - - - - - - - - - - - - - - - - - - - - - - - - - - - - - - - - - - - - - - - - - - -



Sponsored Links



The Best Of Fire Island
Fire Island Pines, Cherry Grove, Davis Park, Water Island Residentials Sales and Summer Rentals.
www.thebestoffireisland.com



Fire Island Realtors
The best summer rentals properties and homes for sale in all of Fire Island, The Pines and the Grove
www.fireislandrealtors.com



Fire Island Q News
Monthly Gay Webzine, Fire Island Pines & Cherry Grove, LGBT Resort Communities on the Atlantic.
www.fireislandqnews.com



New York Q News
Gay E-zine with everything hip and happening in New York City. News and events all around the city.
www.newyorkqnews.com



Residential Sales & Summer Rentals
Fire Island Pines & Cherry Grove Homes For Sale & Summer Rentals: Season, Month & Weekly.
www.cjmingolelli.com



New York City Homes
Looking to Sell or Buy your new home. Contact two specialist in the Manhattan market.
www.pde-tworealtorscom



New York's Performances & Arts
Theater, Performing Arts and Entertainment Reviews in the New York City metropolitan area.
www.qonstage.com



Shopping Online? - Gives Us a Try!
Online Mega Mall. Your community online shopping mall/Apparel, Books, Movies and more ...
www.qnewsmegamall.com