Bucks' Santa Saturday® Is a Hit in New Location on the Jersey Shore
By BRUCE-MICHAEL GELBERT with JOSEPH R. SAPORITO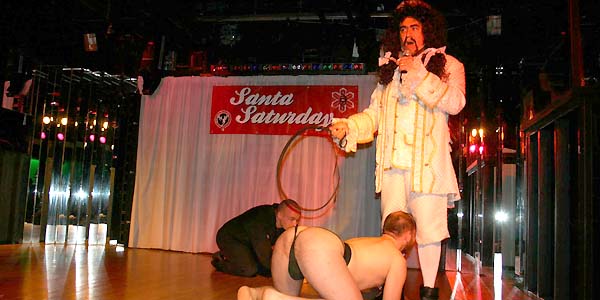 photo by Bruce-Michael Gelbert
Marquis de Sade (JR) & his boys, singing "I Am What I Am"

The Bucks Motorcycle Club's 35th annual Santa Saturday® -which is a registered trademark, exclusively the property of Bucks MC-took place on November 29, the Saturday of Thanksgiving weekend, not in New Hope, Pennsylvania, as has been customary, but, for the first time, at the Paradise, in the Empress Hotel, in Asbury Park, New Jersey, which gave the organization space for the popular fundraiser free of charge. The Bucks County Agency on Aging, AIDS services organization Center House of Asbury Park, and Check-Mate of Monmouth County were the beneficiaries, and hundreds of leathermen, women and bears, from the tri-state area and beyond, were in attendance.

An auction, with barker par excellence Jo Arnone presiding, interspersed with entertainment, organized by the Bucks' Gary Christ and Paradise's Lady Marisa, formed the focal point of the afternoon event, MCed by Rick Starets. Jo noted that, during the past 34 years, the Bucks' Santa Saturday® had garnered more than $400,000 for worthy causes and, fairly early in the day, Rick pointed out that 600 people were already present, while more awaited admittance. Leather vendors brought their wares and photos were taken with Santa Claus or with the Marquis de Sade.

Assisted by Jo Ann Wadsworth, Jo auctioned off donated gift baskets; bed and breakfast and hotel stays, including two nights at the Empress' Judy Garland suite; leather clothing; a silk Christmas tree, decorated with Disney figures; artwork; and house seats for a Broadway show, plus backstage costume tour.


| | |
| --- | --- |
| | |
| photo by Bruce-Michael Gelbert | |
| Curtain Call | |
Bucks County entertainers Gary, trumpeting as Miss Mazeppa; Vanessa Stone, twinkling as Electra; and Pumpkin, in ballet mode as Tessie Tura, kicked off the show with a dynamic "You Gotta Get a Gimmick," from "Gypsy." Angela Arden offered a Garland medley; Gary was Liza Minnelli, energetic in "Alexander's Ragtime Band" and emoting in "Maybe this Time," from the film "Cabaret;" and Maxine was a Cher in an elaborate glitzy costume, while Marisa, in leathery look, and larger-than-life Miss Seymour Cox were dueling Chers, doing "If I Could Turn Back Time." Elegant Paté assured us she had been "Through the Fire." Marisa displayed virtuoso dancing in "Santa Baby," complete with splits, and "The Main Event," in which she somersaulted from the floor up onto the stage. "Twisted" Keith Opperman portrayed 'Obama Girl' and Whitney Houston ("I Will Always Love You" as "love booze," "sniff glue" and "love 'ludes.")

Bucks Treasurer Teyd Jamison, singing and swinging, gave us "It Might as Well Be Spring," from "State Fair," and "Almost like Being in Love," from "Brigadoon." The Marquis (JR), in 18th century garb, wielding a whip, and boasting boys prostrate at his feet, delivered an a cappella "I Am What I Am," from "La Cage aux Folles," and the audience sang along. "Live Mike" Peter Johns sang seasonal numbers "All I Want for Christmas Is You" and "Last Christmas." Bucks President Nikk Kriss presented awards to Brian Shapiro, for handling food, poolside, at the event; to Jo Ann, for all her assistance; and to C.J. Gascoyne for the Paradise, which will host forthcoming years' Santa Saturdays®.


| | |
| --- | --- |
| | |
| photo by Joseph R. Saporito | |
| Jo Arnone, Mr. NJ Leather 2009 John Nowak & friend | |
Vanessa dedicated a touching "Remember Me this Way" to Gary, in recognition of his work on the event since its inception, and to his partner of 32 years, Scott. For the grand finale of the show, Gary, Pumpkin, Angela and Vanessa declared, "If you don't see what you want up here, lay down, brother, you're dead!"

For the climax of Santa Saturday®, Jo auctioned clothes and accoutrements off the back, feet and crotch of Mr. New Jersey Leather 2009 John Nowak, with Maxine's assistance, with John's jockstrap and cock ring spurring particularly competitive bidding and top bidders removing their prizes from John's person out of audience view.


- - - - - - - - - - - - - - - - - - - - - - - - - - - - - - - - - - - - - - - - - - - - - - - - - - - - - - - - - - - - - - - - - - - - - - - - - - - - -



Sponsored Links



The Best Of Fire Island
Fire Island Pines, Cherry Grove, Davis Park, Water Island Residentials Sales and Summer Rentals.
www.thebestoffireisland.com



Fire Island Realtors
The best summer rentals properties and homes for sale in all of Fire Island, The Pines and the Grove
www.fireislandrealtors.com



Fire Island Q News
Monthly Gay Webzine, Fire Island Pines & Cherry Grove, LGBT Resort Communities on the Atlantic.
www.fireislandqnews.com



New York Q News
Gay E-zine with everything hip and happening in New York City. News and events all around the city.
www.newyorkqnews.com



Residential Sales & Summer Rentals
Fire Island Pines & Cherry Grove Homes For Sale & Summer Rentals: Season, Month & Weekly.
www.cjmingolelli.com



New York City Homes
Looking to Sell or Buy your new home. Contact two specialist in the Manhattan market.
www.pde-tworealtorscom



New York's Performances & Arts
Theater, Performing Arts and Entertainment Reviews in the New York City metropolitan area.
www.qonstage.com



Shopping Online? - Gives Us a Try!
Online Mega Mall. Your community online shopping mall/Apparel, Books, Movies and more ...
www.qnewsmegamall.com